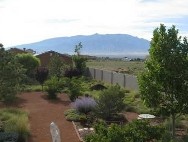 Architecturally, the dwellings run the gamut — railroad cars, travel trailers, plywood shacks, doublewides and two-story ranch-style homes.
Here in Rio Rancho outside Albuquerque, residents are beyond the reach of power lines and piped water. A few have solar panels or small wind turbines. For others, like a shanty built by Liz Owens, 57, the cost of renewable power sources and drilling a water well is prohibitive. Generators and plastic water tanks are common yard features.
The local County is concerned about the proliferation of informal development. Sandoval County's long-term planner said home styles in the area range from railroad cars to travel trailers, plywood shacks and ranch-type homes.
Read More »
Auto Amazon Links: No products found.