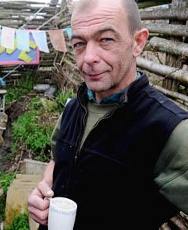 A bee-keeper living in a cave in Sussex, UK, has been ordered to leave by his local council on the grounds he does not have a fire exit.
In a case of Health-and-Safety-gone-mad, Hilaire Purbrick (pictured), 45, has been told he must leave the seven-foot cave in Whitehawk Hill  he has inhabited for the past 16 years. Mr. Purbrick's troubles started when he first came to national attention in 2003 after he calmed a swarm of angry bees using a feathery sex toy. His selfless act led the council to focus on his unconventional lifestyle.
He and four neighbours have lived and dined off the land with no ill effects, but after having the dwelling checked by the fire brigade, Brighton and Hove City Council decided it did not have enough exits and sought an injunction banning him from entering it. A temporary injunction prevents him from making the repairs neccessary to satisfy the council.
Mr Purbrick ignored the order and continued to live in the cave, but was pulled back into court on Tuesday when a judge granted the council a possession order which will allow him to be formally evicted and banned indefinitely from the site.
Mr Purbrick now plans to take his fight to the European Court of Human Rights, claiming his right to a private life and freedom has been breached by the order.
"I am still living there and intend to continue to do so," he said. "I know lots of people in this town who live in houses with only one door with no fire exit."
The keen gardener has a history of overcoming legal challenges to his earthy home. In 1999, town hall authorities threatened to remove him, claiming he was running an illegal vegetable shop.
But Mr Purbick won a reprieve after claiming his site "was hardly a Sainsbury's" and he only had one customer – a pregnant woman who bought his sprouts.
The following year he successfully fought an eviction order after complaints he was keeping chickens and bees without permission.
Granting the possession order at Brighton County Court, Judge Jonathan Simpkiss said there were legitimate health and safety concerns that the cave could collapse.
"The council considers this was a danger to life. They have a responsibility to the public," he said.
Mr Purbrick's decision to appeal to the European courts was made after the judge refused leave to appeal in a UK court, saying it was a "hopeless cause of trying to resist the inevitable".
The whole saga goes back six years when Mr Purbrick, a bee-keeper, was called in to trap a swarm causing chaos.  He forgot the most important tool of his trade, his bee brush – and used a feathery sex toy instead.
Thousands of bees had descended on George Street in Brighton, causing a man to flee his home as they began to build a nest in his porch.
Passers-by had gathered to watch the drama when Mr Purbrick, called in to trap the roaming Queen, realised he had left behind his ostrich feather bee brush.
The nearest suitable replacement was an exotic "tickler", borrowed from a neighbouring fetish shop.Luckily the ploy had the desired effect and the bees  flew off, surrounding a pushbike chained to nearby railings.
A second attempt to cage the Queen also failed when the trap tumbled off the handlebars and the swarm spiralled off into the sky.
After watching the bees take to the air, Mr Purbrick said: "Swarms like this are fairly common in summer although this year they have been later than usual because it's been so wet and cold.
"Now I expect it will be fast and furious for a while. I am hoping to catch them all and then I'll have a ready-made colony."