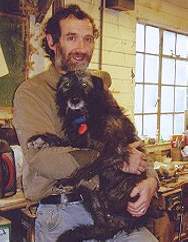 Sticking to his guns – Richardson After a  25 year battle, a couple is being allowed to stay in their cosy earth-sheltered and grass-roofed single room in the ritzy Gloucestershire countryside.
Not far from the country retreats of Rock stars and Hedge fund billionaires, the Richardson's wooden, 12-sided circular house is half-buried beneath trees on a hillside near the remote Saltbox in Camp.
Lovingly developed over more than two decades by carpenter Richard Richardson, The Retreat is an antidote to the modern rat race.
Mr Richardson, 58, his wife Grit, 36, and their sons Robin, four, and John, three, live without TV or PC.
They have fresh running water from a standpipe outside, cook on bottled gas, heat The Retreat with a giant log burning stove and brighten their evenings with paraffin lamps.
Their roundhouse has an ample circular table specially built around The Retreat's central pillar, small windows and glass skylights.
There are no mod cons with only a tin bath to fill and set for warmth before the stove and an Elsan for a loo.
The Richardsons' existence appears calm and peaceful and their unusual way of life is assured now a planning inspector has finally ruled the family can stay put.
That was after Stroud District Council told them they had to go because harmed the official Area of Outstanding Natural Beauty and was outside defined settlements.
"I made the whole frame with a saw, hammer and nails," said Mr Richardson.
"I am just a great believer in simplicity. Here I can be peaceful and close to nature."
The family have comfy sofas set around the inside edge of their circular home and Mr and Mrs Richardson's bed is separated by a curtain from the main living area.
There is the usual happy clutter of piles of shoes and children's books and washing airing above the log burner.
The overall atmosphere is slightly like being inside a giant, well-equipped, wooden- floored tent and the eco-friendly Retreat has a minimal carbon footprint. Mr Richardson lived in a tent after he bought his acre of land at the spot and keen eyed passers-by have long noticed the giant Christian cross that towers over the site.
"I'm utterly dependent on God's mercy," he said.
His German born wife of five and a half years said The Retreat used less resources than a conventional one bed apartment.
Although she admitted: "It is a bit more hard work. We are thinking of a hand-powered washing machine."