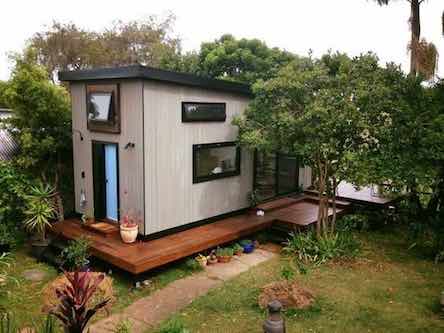 Over a century ago, Australia's 1911 census registered the average household as 4.5 persons, compared to the average today of 2.6, yet Australian homes have increased a staggering 40 per cent in size since 1984. The average family home has increased from 162 square metres to a whopping 227 square metres.  Just because they can.
Now news articles call on Australia's middle classes to imagine owning a home under $100k, living completely unplugged, and moving it to a new location in retirement … being debt free in a flexible creative community, with an abundance of leisure time.
Its a big country with a tiny population and consequently, according to the WWF Living Planet Report of 2008, the Australian ecological footprint  on the earth is 2.8. That measure in layman's terms is that they are using 2.8 times more resources than the earth can sustain.
As well as one of the largest building footprints in the world Australians send out an average of 18 tonnes of carbon per household.
This is all a backlash from the previous century where six or seven people packed in  a 2-bedroom house.
If those stats aren't enough, Australians are also among the longest commuters in the world, above New York and LA.
Architecturally-designed eco homes, solar-panelled, moveable, self-sufficient, are the new status symbol. Time to relax and enjoy the family, or grow vegetables, instead of being gridlocked in a traffic jam.
It's all possible. Most baby boomers have moved on from our gas guzzling cars of the 70s and 80s, to smaller, smarter economical ones.
Why wouldn't they do that with homes when they are not sustainable?  Anyone scrolling through social media or Instagram lately, or watching lifestyle television shows, would be aware of eco or small homes popping up all over the place.
Some look like pods from Mars and others gypsy caravans on wheels, but the trend is being dictated by an awareness of a lower carbon footprint and a foreboding sense of our finite energy reserves.
I hazard a guess here, but nobody in Australia will be selling a 400-square metre home in 10 years' time!
Auto Amazon Links: No products found.