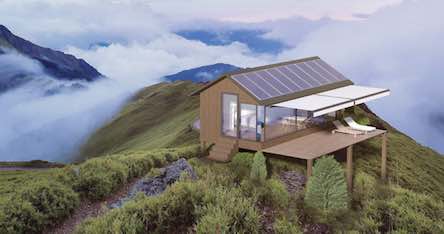 Britain's Sun newspaper is known as narrow minded and bigoted.  So it was a surprise to find it extolling the virtues of off-grid, 3D printed homes yesterday.
Somebody at the Sun had not got the memo – because the paper described "incredible homes of the future, which cost just £26,000 and can be 3D printed homes in a matter of hours."
Ukranian company PassivDom offers the unique product: a completely self-contained home, designed to function anywhere in the world.
Robots 3D print the cosy homes in a matter of hours after they are specified and ordered.
"For anyone who has ever dreamed of living off the grid, the company offers an affordable solution, which cuts out the hassle of building your own home," the paper says.
A 3D printing robot can print the walls, roof and floor which slot together. Then a human worker can add the windows, doors, plumbing and electrical systems to finish off the build.
The homes can withstand even the most hostile conditions and prices start at just $31,900 (£26,000) and are available to be pre-ordered in Ukraine and America, with the first of the houses delivered later this year.
Aside from the price tag, the most impressive thing about the homes is the fact that they can exist with no need to connect to external electrical and plumbing systems.
The self-powered properties are airy and light, with a solar panel and battery allowing residents to experience all the mod-cons without a connection to the national grid.
And the houses are also completely mobile, and designed to offer a comfortable standard of living in some of the planet's most inhospitable environments.
A filter converts humidity in the air into water, with the manufacturers boasting that their product is built to withstand even Arctic conditions.
PassivDom offer a number of models, with the smallest measuring 380 square feet and setting you back £26,000.
Without a separate bedroom, residents in the 3D printed homes would kip on a sofa bed, although all models do come with bathrooms – as well as the necessary tech for you to control your appliances via a smartphone.
Buyers can also request bigger, or even custom-made models, which can cater to the tastes of all prospective homeowners.
The firm's founders hope that their products can solve global housing crises, as well as giving people more freedom to live wherever they want at a reasonable price.
Auto Amazon Links: No products found.