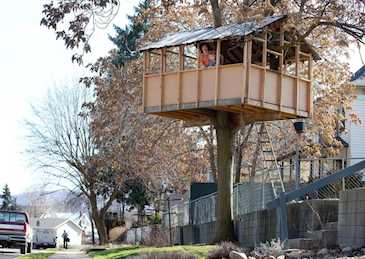 A family in Wenatchee, WA have been told they can only keep their tree house if they takes out a $1M insurance policy in case it falls down
Zeb Postelwait built a tree house for his young sons in the front yard but the council say it is a threat to public safety.
Postelwait disagrees, says it is secure and does not obstruct the sidewalk. The council says that if Postelwait does not remove it, they will have an engineer appraise it, obtain an order to remove it and tear it down – and send him the bill for all costs.
The Postelwait family moved last summer to a home with a big tree in the front yard. Two months later, they received their first notice from the city to tear down the structure.
The Wenatchee World reports officials say the treehouse overhangs the sidewalk, threatening public safety. 'If something happens, the city is liable for the damages,' Mayor Frank Kuntz told the Bellingham Herald.
'The council was unanimous in directing me to do what we're doing. It has to come down.'
Postelwait says he's being 'harassed' by the city, and that he is not in violation of any codes.
'A million dollars? For a tree house?' he told the Bellingham Herald. 'Come on!'
If the city has to forcibly remove the tree house, city attorney Steve Smith says Postelwait will be hit with a bill for the city's legal costs, the engineer's evaluation and the removal of the structure.
'I hate to do that,' Smith said. 'We've sent him lots of warning letters. If he'd just take it down, we could avoid all that.'
Postelwait says the treehouse is perfectly safe and that he conferred with an engineer before building it. There are about 10 bolts anchoring the house to the tree and a cable system rated to 800lb supporting it.
'How can they take me to court over an obstruction that doesn't exist?' he asked. 'I don't want to fight over this. I just think it's ridiculous that they are going after a tree house.'