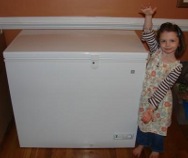 Save 90% of the energy Page Three girl Keeley Hazell has been campaigning for houses to switch to energy-saving Chest freezers. We thought it was just an urban legend, but Keely is right. For years there has been a persistent rumour that chest freezers can be used as fridges at just one tenth of the power consumption.  A stream of stories on Australian web sites seems to confirm it.
The theory is that a chest freezer will use less power because the horizontal lid doesn't let cold air fall out when it's opened, and it has very thick insulation compared to a fridge. People are claiming some amazing power consumption figures, but would it really work that well?
Australia is currently hosting the worst drought in the world so there are few better places to test the theory.
Darren from Green-change.com in Sydney tested his old fridge with a MS5116 mains power meter, only to learn that it was using 2.5 kWh of electricity per day. His total household energy consumption at the time was around 20 kWh per day, so the fridge was responsible for 1/8th of that!
He bought a 210 Litre chest freezer for $90 second-hand, and ordered a FridgeMate MkII digital temperature controller online for $50. The temperature sensor needs to sit somewhere inside your freezer but not touching the walls.
It can cut the power when the temperature drops below a set point
Once it was loaded up and stabilised, Darren left the MS6115 on the chest fridge for 24 hours. "When I came back, it was reading a cumulative usage of just 0.2 kWh! Given the limited 1-decimal-place reading, I'm calling that 0.2-0.3 kWh. Not bad at all – it's around 1/10th of the old fridge."
That means you could power it from a single solar panel – something that was previuously considered inpossible for a fridge.