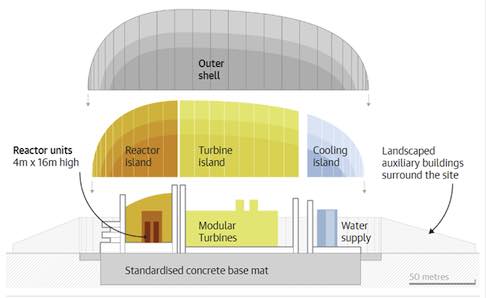 In January, GE Hitachi signed a deal to build the first small modular reactor in North America, agreeing a deal with authorities in Ontario, Canada.
GE is among dozens of companies around the world with designs for small, factory-produced reactors. The theory behind mass-producing them is that development costs can be spread over many units to lower costs.
They are also cheap enough for private companies to buy, with the smallest versions being touted as a prospect for powering container ships.
Early leaders like Rolls Royce are falling behind because of slow Government decision-making on SMRs and their higher-tech cousins advanced modular reactors (AMRs), which are a few years further away in deployment.
Some developers have abandoned hopes of taxpayer funding, but without guidance from the regulator about how far off design approvals may be, and a site to show that their technology works, lenders are skittish about committing to big projects.
Without these assurances, orders and jobs are on the line. However, the industry is hesitant to attack governments openly, given the requirement to win Government approval (and funding). Governments tend to favor home-grown companies, whihc makes the GE deal suprising.
In the UK, for example, foreign-controlled Rolls Royce still has the inside track – a government spokesman said: "Small modular reactors could play a vital role in our nuclear programme as we work to increase our energy independence and security, reducing our reliance on fossil fuels and exposure to volatile global gas prices.
"The Government is investing in these new technologies through the £385m Advanced Nuclear Fund including £210m towards the Rolls-Royce SMR programme. We will announce plans for the set-up of Great British Nuclear soon, and we are committed to backing it with appropriate funding to support projects and investment."
Tom Samson, chief executive Rolls-Royce SMR, said: "We have over 600 members of staff in the UK, dedicated to bringing our technology to market at pace – a British solution to a global energy crisis.
"Rolls-Royce SMR has called for rapid progress from the Government and we welcome the adoption of that principle in this process.
"We look forward to working collaboratively with Government and Great British Nuclear to realise their ambitions as quickly as possible."