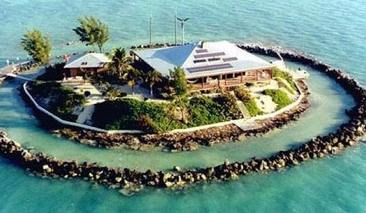 The largest off-grid community in Florida is about to be taken on the grid, after Keys Energy decided to bring power to remote No Name Key, whose 43 residents have long been divided over whether to allow Utility power from over the border.
But there are other options for disappointed off-grid supporters amongst the Noname residents, at least there are if they have $12m.
Many homes in the Florida Keys boast private beachfront and spectacular water views. Few, however, can lay claim to having a 360-degree beachfront. E Sister Rock Island Florida
 does.
This private island home a quarter-mile off the Atlantic shore of Marathon, Fla., is surrounded by white sand and coral reef.Although the city of Marathon includes several keys and smaller private islands, the property is unusual for the size of its home, explains listing agent Marvin Arrieta.
The Marathon home for sale is completely off-the-grid. It relies on solar panels on the roof and side of the house for power, while cisterns collect rainwater.
Built in 1980 as a family getaway spot, the home holds all the vacation essentials: a wrap-around porch measuring 2,700 square feet, private dock and 21-foot-long boat, which is included in the sale. The island also has a helipad for ease of transportation to the Marathon and Miami airports.
The Bahamas-style residence was updated in 2001 and features enormous windows and 19 sliding glass doors that open out to veranda. In addition to the three bedrooms and two bathrooms in the main home, there is a smaller, detached 1-bedroom, 1-bathroom guest house.
The owners are listing the property because they no longer use the island as often as they'd like.
"When they bought this property, they had one small child and they spent a lot of time there," said Arietta. "Now they have four children that are almost grown and they don't go to the island."
The property is designed to be a vacation paradise. The coral reef surrounding the home is perfect for snorkeling and just off the home's shores are plenty of fishing areas or other opportunities for water sports, explained Arrieta.
If you find the $12 million price tag a bit too much too swallow all at once, the private isle is also available for rent: $5,000 a week.