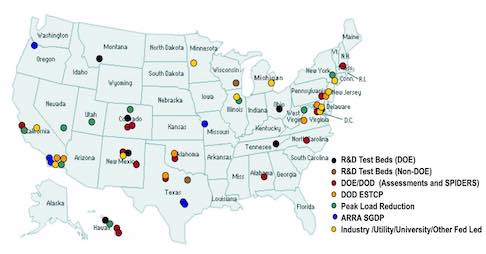 There are currently nearly 700 significant microgrids in the USA and only about 13 in Western Europe, according to a new report. There are four microgrids under construction in the UK. A microgrid is a local electrical grid with defined electrical boundaries, acting as a single and controllable entity. It is able to operate in grid-connected and in island mode. A 'Stand-alone microgrid' or 'isolated microgrid' only operates off-the-grid and cannot be connected to a wider electric power system.
There is a signficant potential market for mircogrids, and the current size is vanishingly small, but it is proof of concept. Globally the buildout of microgrids is growing at only 7% per year, and this could change dramatically if a recent Off-Grid.net forecast of potential demand is correct.
The highest number of microgrids are employed by the Commercial and Industrial (C&I) sector globally (e.g. Walmart, Inc., eBay, Panasonic/Xcel, Castello Di Amorosa Winery, etc.) and are primarily aimed at serving the needs of these businesses and corporations.
According to the U.S. Department of Energy (DOE), there are at least 676 microgrids in the US, providing a total of 4,132MW of reliable electricity. – DOE lists over 620 grid-connected microgrids and over 56 off-grid microgrids in the US
The new report from Triton Research estimates there are currently 13 existing microgrids across Western Europe. In the United Kingdom, there are currently 4 microgrid constructions underway.
Transitioning to a microgrid is driven by reduced electricity purchase costs of distributed energy resources, favorable government initiatives, reduced carbon emissions to achieve a low carbon economy, and increased resilience and insulation from external events. Demand along all these categories is likely to increase.
Market growth is currently restricted by the regulatory framework and high maintenance and installation costs.
KEY INDUSTRY PLAYERS
Hitachi Ltd
Schneider Electric
Duke Energy Corporation
8.4. Exelon Corporation
Siemens AG
Fairbanks Morse
National Grid plc
. S&C Electric Company
Bloom Energy,
Cummins Inc,
Fuelcell Energy Inc,
General Electric Company.
Power Engineers Incorporated,
Nrg Energy Inc,
Eaton Corporation plc
The global microgrid market includes North America, Asia-Pacific, Latin America, Europe, and the Middle East and Africa regions.
The Asia-Pacific is deemed to witness the fastest growth over the forecast period. The large population base in the region has increased the demand for power grids due to the lack of electricity. Due to low electrification rates, several microgrid innovators are expanding operations in the region and are backed by government funding.
Additionally, with several nations facing extreme weather conditions, microgrids have emerged as an ideal solution to improve grid efficiency. During the forecast period, collaborations between governments, international development agencies, and energy companies are expected to rise, boosting the market's growth.
The report can be found at: https://www.tritonmarketresearch.com/reports/microgrid-market