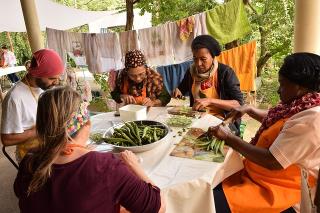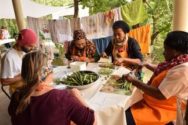 Last month I outlined the Permaculture course available at the School of Integrated Living (SOIL) in the ecovillage Earthaven (see here).
Recently, this program has been certified by Gaia Education, a provider of sustainability education across the world. The Ecovillage Design Education (EDE) credential will be provided through the Permaculture Immersion program running between Jun 10 and August 11 2017 at Earthaven ecovillage in North Carolina. The program provides students with both the knowledge and practical skills needed to design a society which reaches sustainable development principles supported by the UNESCO Global Action Programme on Education for Sustainable Development.
The program has four main dimensions which are covered. The social element involves working towards a common vision, improving communication skills and the ability to deal with conflict and diversity within a society. The economic element includes assessing the impact of the global economy on local projects and coming up with ethical economic opportunities within projects. The ecological aspect is learning about permaculture principles, as well as designing water systems for projects and learning how to apply green building principles. Finally, the worldview aspect is about maintaining a healthy lifestyle whilst incorporating regular spiritual practice.
SOIL co-founder, Lee Walker Warren, said, "The program helps passionate people understand their impact on society and forge real connections with themselves and others. People who are deeply engaged in their local and global communities make the biggest impact, both on other individuals and the planet."
Over 4,900 students have taken part in the Ecovillage Design Education program across the world, supported by Gaia. There are various locations where these programs take place including Estonia, Italy, Canada, Chile, South Korea, Thailand, India, Scotland, Switzerland, Japan and the Netherlands. However, SOIL is only one of two organisations in the US which offer the UNESCO recognised EDE course.
On completion of the course at Earthaven, both an EDE certificate and a Permaculture Design certificate will be awarded.
There is currently a $100 discount when booking through the SOIL website for the Permaculture Immersion program by using the promotional code: SOILPEI100.