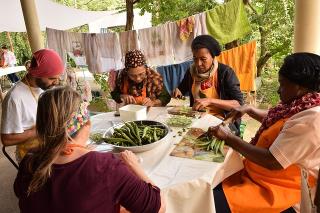 Want to test out living off-grid but don't want to do it alone? If you have $6000 to spare you can by taking part in the Permaculture and Ecovillage Immersion Experience with the School of Integrated Living (SOIL).
This two month residency running from June 10th to August 11th is less of a course and more of an eco-cultural learning experience.
Located in the ecovillage Earthaven near Asheville, North Carolina, you'll gain new skills on a wide curriculum. From learning about ecological farming to efficient irrigation techniques and eco-spirituality, there is something for everyone. Most days will begin with a meditation session before getting stuck into the day. There will be unstructured time, but most weeks will cover approximately 50 hours of learning. A Permaculture Design Certification course is also included, which will take place in mid-June.
Earthaven was founded in 1994 and sits in 329 acres of land. A completely off-grid community powered with solar panels and two small hydropower stations. The buildings are made of environmentally friendly materials, usually lumber, with metal roofs for water catchment. Most are passively solar heated and propane burners help to keep them warm during colder months. The huts and residences have either individual or shared solar systems which supply their electricity. Batteries and generators are also charged by the micro hydropower stations for back up supplies. Although most of the residents get around by foot or bike, three solar powered golf carts can also be used.
Course participants will camp on site, with the majority of spots being for two person tents. A tarp covered kitchen with propane burners and a composting toilet are all available for use. Food is also included and most is sourced from the local environment and small farms in the village.
The cost of the course is $6,800 including tuition, food, camping, field trips and the permaculture design certificate. There is a $400 discount if booked before February 10th.
If you don't want to spend two months at Earthaven but would still like to visit – you can! Workshops and tours are open to the public. Camping is also offered for $15 per adult per night, or $20 for two adults sharing a tent. The camping season runs from March 31st to November 5th.