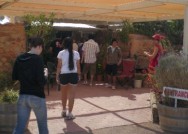 Going down….Earth house In cool Canada, there are varied examples of homes unconnected to local power and water.
Anthony Ketchum, 70, lives part-time in his weekend cottage in the Hockley Valley, a 20-minute drive from Orangeville, Ont.
His house gets its electricity from seven photovoltaic panels that feed a battery bank. A small wind turbine boosts the system in winter months.
"We took the plunge to be off-grid and heat the house from earth sheltering," says Ketchum, who lives in Toronto.
The 4.2-acre property is on a steep hillside, and the house was built a decade ago. Two sides of the three-bed, two bath home are below ground. So it benefits from natural geothermal heat and stays above 10 degrees even in winter, with no added heat source. A wood fire is all it takes to keep things comfortable.
The south and west faces are exposed, with large windows to capture solar heat. The house also has custom krypton-filled windows that are heat mirrored (an interior film effectively makes them triple-glazed) and insulate to R8. The windows cost about $12,000 Canadian, Mr. Ketchum says, but "over time they paid for themselves."
Although it is a getaway cottage for him and his wife, he estimates that if it were heated for year-round use, it would take about a cord of wood a year, at a cost of about $600. When he does use wood, it is burned in a special masonry heater that is common in Scandinavia; it weighs six tonnes and holds heat long enough to keep the place at room temperature for 24 hours, he says.
"You have to learn how much [electricity] you can use," Mr. Ketchum says of living off-grid. "We have to be careful how much we use and know how much everything uses." The pump for the well, for example, draws a lot of power.
%authorad4%
By choosing energy-efficient appliances and using the electricity carefully, the couple enjoy many conveniences including power tools, a vacuum cleaner and a dishwasher. But inefficient ones that convert electricity use to heat, such as a clothes dryer or hair dryer, are out.
The house has two composting toilets and a 9,000-litre underground cistern fed by rainwater from the roof.
"I can't stand the waste of electricity in our society and am not a fan of nuclear. I grew up in a time when you conserved electricity," Mr. Ketchum says "The chance to do something off-grid was a dream I had that I never thought would be possible."