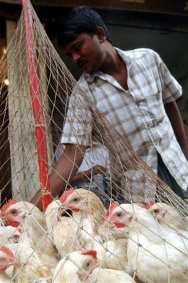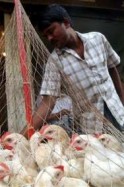 Low tech solutions Bangladesh biology prof Raj Hussein, reports  for Off-Grid from a dairy and poultry farm in his country that could be an inspiration to the whole of rural America —  and suburban America as well, come to that.
Advance Animal Science Co. Ltd. (AAS) is hooked up to the local grid,  but has its own arrangement to fill its electricity requirements.
While the rest of the country faces up to a mounting power crisis, AAS  has set an example for others to follow, generating bio-power from the gas from its animals' droppings – cow dung and chicken litter. The bio-gas, an already popular technology, is being passed through traditional gas generators with minor modifications to generate power.
'Only one-third of the capacity of my farm saves me  4,000 Taka per month ($57) from the power bill I used to pay ,' Dr MM Khan, managing director of Advance Animal Science Co. Ltd., said about the utility of his biogas-based power plant.
He said bio-fertilizer is another of the byproducts of the gas plant in addition to the gas and power, while the plant is providing gas to some cooking burners in the neighbourhood.
Besides, the use of animal drops in the biogas plants also helps ensure environmental security in the farm areas and remove bad smells.
A visit to the farm in Kashimpur and nearby Latifpur villages of Gazipur District suggested that adopting the technology would be useful in getting rid of the erratic power supply from the national grid and make a farm more profitable.
Khan installed the plant at a cost of about  500,000 Taka (just $700 USD), involving more than half of the expenditure for constructing the biogas plants to ensure proper supply of biogas to the generators. The payback period would be 1-1.5 years.
'It's possible to sell electricity in the neighbouring areas from an output of 10 kwh,' he said. There is an estimate that a poultry farm, having 5,000 birds, could generate 5 kwh electricity.
Used widely in different countries of the world, including Germany, the technology with the small modification at a cost of Tk 18,000 per unit started its journey from a pilot project in Faridpur only two years back. AAS would be the second outfit to undertake similar project under German Technical Cooperation (GTZ).
'The technology can help generate 50 MW power in the next two years from around 10,000 medium-sized poultry farms in Bangladesh,' said GTZ senior Adviser Engr. Khurshed-Ul-Islam, who modified the engine.
The country at present suffering from a power supply shortage at a range between 1,500 and 2,000 MW while there is a bleak prospect for substantial improvement in the near future.