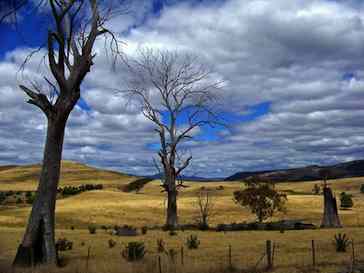 A LARGE slice of picturesque Upper Derwent Valley on the edge of Tasmania's Southwest National Park is for sale in lots to generate funds for the Land Conservancy.
A total of six lots, ranging in size from about 20ha to 137ha, each with conservation covenants attached are on offer to protect the land's natural values in line with the aims of the non-profit organisation.
The plots can all be found on Google Maps – such as Bullock Hill. 20km north of New Norfolk, a 60- to 75-minute drive from the Hobart CBD, adjoining the Pelham West Reserve.
"The property has significant conservation values, including endangered black gum forest, vulnerable silver peppermint forest and habitat for several threatened fauna species, including the endangered wedge-tailed eagle and Tasmanian devil," said conservation programs officer Jim Mulcahy.
One block is already under contract, by a local retired couple, and the remaining five forested lots are accessed by either Marked Tree Rd or Pelham Rd. Some include features such as cliffs, a dam and views of bush and the surrounding land.
"[They are] perfect for people seeking to get out of the rat race and experience a quiet country bush lifestyle or to live sustainably and `off the grid'," Mr Mulcahy said.
The prices for the lots range from just US$70,000 to $115,000.
The conservation covenant allows for development on part of each lot, allowing the construction of homes, vegetation to be cleared and other activities required for residential use.
The remainder of the blocks can be used for essential management such as fences or recreational activities, like walking tracks, which do not threaten the conservation of the land.
Tasmanian Land Conservancy CEO Jane Hutchinson said the organisation was based on science-based biodiversity conservation, established in 2001, which offers a unique, cost-effective and successful mechanism for protecting under-reserved forest communities on private land.
"Proceeds from the sale of revolving fund properties, like Bullock Hill, are returned the fund and utilised to purchase further properties," Ms Hutchinson said.
"Properties are assessed for their relevant natural values. If they contain natural values relevant to Revolving Fund requirements they are purchased and, prior to sale, are covenanted to protect these values."
Tasmanian Land Conservancy has a further five properties currently under contract and 13 properties currently for sale, some with multiple titles.