We haven't tried the new bicycles from Strida, but we'd like to. If they are half as good as the promo material, you can take them anywhere.
Strida are the new generation of folding bikes. They are lightweight and distinctively styled.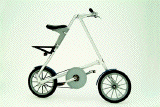 Strida 3
Their design ensures a good view of the road and quick and easy folding. The frame is aluminum and the belt-drive is Kevlar, which requires no grease. So the bike, and your hands, stay clean. It can be folded in seconds, according to the PR guys.
Weight: 10kg, Size folded: average 110x50x35 cm. The new model, the Strida3 starts at 159.95 (plus VAT)
The classic folding cycle is the British-made Brompton. There are five models, with 3 or 6 gears, weighing from 10 to 12 kg. The frame is steel and all models have rear suspension, making riding safer and more comfortable. The Brompton folds up neatly into an unbeatably small size. Prices start at 375 and go up to 635. For list of dealers worldwide visit their website
The Frog made by German company Reise and Milleris very compact, and folds up to even smaller size than the Brompton. With good suspension, 3 speeds and wide tyres it is good for riding in the countryside as well as the city. Price 740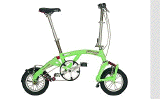 Frog
Reise and Miller have launched the Birdy, another light, practical folding bicycle. With a final size of 79x59x36 cm and 10.4kg weight, it is a bit bigger than the Frog but just as light. Prices between 850 and 1800.
US Dahon have a broad range of folding bikes from $279.95 to $1499.95, including a full-size folding bike for $359.95. For details of retailers visit their website
If you're still not convinced and unsure whether a folding bike is what you need, weigh the pros and cons on WhyCycle