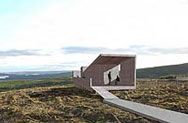 Its really, really dark here A new Astronomical Observatory in Kielder Forest, Northumberland, gets all its power and water from local sources. Kielder is the country's largest forest, and has the lowest light pollution in Britain.
The world class Observatory is up a 2km farm track and the building's silhouette shuns the archetypal observatory dome for an angular, constructivist look.
The building's electricity needs are met by a wind generator and rooftop photovoltaics. Likewise, the plumbing is 'off-grid', with no running water. Heating is fuelled with wood from the forest.
The architects opted for a pier form that juts out from the slope to give both telescopes a full view of the southern horizon.
At ground level, a front porch shelters the entrance to a 'warm room' equipped with a wood-burning stove. This is the building's largest interior space, where astronomers can monitor their telescopes via computer.
At the end of the warm room is the entrance to the first of the turrets, and the exit to the viewing area and platform that separates the two. Standing on the deck with Barclay, looking out to the Kielder Water reservoir, he says: 'We wanted it to feel like you were on a ship, away from everything else and close to this big sky.'
Both the observatory's turrets rotate through 360 degrees. In a mix of high- and low-tech, their wooden bulk is rotated manually through a rack and pinion system turned by a 200mm-diameter stainless-steel crank. Within this Victorian engineering are two very 21st-century telescopes. The smaller turret houses a Meade 14″ LX200 GPS telescope weighing in at 25kg; the larger turret contains a Pulsar Optical 20″ weighing 50kg. Shutters to the turrets are controlled through servo-operated hydraulic pistons.
The large turret, its rotating part weighing six tonnes, is accessed by a circular ramp that brings you up to the observation level. 'The exposed metalwork of the shutters hints at the scientific nature inside, ' says Barclay. Sticking with it was a good move – the contrast of metalwork and timber gives the building an edge at once sinister and intriguing.
When the Queen opened Kielder Water reservoir in 1982 it was already obsolete. The decimation of the North East of England's heavy industry had removed the need to supply the hitherto thirsty rivers of the Tyne, Wear and Tees. Seven years after construction had begun, the Forestry Commission had a 200 billion litre-capacity white elephant on its hands. But since then, the Kielder Water & Forest Park has found a new direction as an arts and leisure hub.
A planting scheme started by the Forestry Commission will make the lakeside treeline 'more random'.