Japanese city streets will soon have solar powered lights. Sharp Corporation is launching the new light, which combines a new type of solar cells with high-intensity LED lights.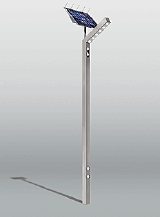 The "Lumiwall" street light will be marketed from mid September at a retail price of 500,000 Yen ($4,000).
It works like an industrial-strength solar garden light, producing and storing electricity during the day, and using it to power LEDs after dark.
The LEDs are embedded in see-through special solar panels, 50% more efficient than normal silicon-based panels. Sharp claims the LEDs are eco-friendly because they contain no hazardous materials and last 40 times longer than normal incandescent electric lightbulbs.
The Lumiwall street light will be on display at the Sustainable Energy Show at the London Olympia in September. It will be available in Europe after that, made to order only.
Links