If you're grid-connected, a small wind turbine will reduce your electricity bill 50 to 90%… Small wind turbines are silent and easy to set up.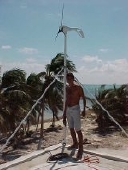 A small turbine should be placed at an unobstructed site, for optimum efficiency — a rooftop is fine, small turbines don't need towers.
A turbine producing about 800 watt power should be enough for a standard home, but if you're going to rely solely on wind power, carefully estimate how much power you'll need. Check whether you need a planning permission with your local council, in some places you might also get a tax incentive or a rebate from your local authority.
Windstream Power have a wide range of small wind turbines like the Windstream Basic, 'one of the most field proven small wind turbine'. It is designed to charge 12 or 24 batteries, rated power 120 watt.Price $497
Hornet wind turbines get good reviews – they're small, unobtrusive and silent, and even withstood hurricanes. Designed to charge batteries from 6 to 48 V, they produce a 800 watt power.
Price $449.95, order from Hydrogen Appliances.
Southwest Windpower make the Air X, a small, easy to set up and low maintenance 400 watt output wind turbine. Price $ 600 from Solardyne.com.
The lightweight Aeromax Lakota wind generator is good at low wind speed and in changing wind conditions. $1390 from The Solar Biz
The Whisper H40 is another strong, resistant wind turbine by Southwest Windpower that'll deliver a 900 watt power. It's just been redesigned for higher efficiency. Price $1,597 from Solardyne.com.
Power Systems will help you estimate your needs and set up the appropriate wind power system on your property for you.
Links
Clear Skies, rebates and incentives in the UK.
The Swift Rooftop Wind Energy System will be on the market in the UK in a couple of months. This new small and silent wind turbine won the Scottish Green Energy Award.
Ampair design and install small wind turbine for home use in the UK.
Wispagen make wind turbines in the UK.