Self-build geodesic domes course on Dec 10th to 12th at the Low-Impact Living Initiative, Redfield Community, Winslow, Bucks, UK.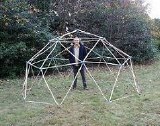 Build your own low-impact dwelling / storage / tent / spare room / retreat / kids hideaway …
from cheap, sustainable, easily available materials with basic tools and no previous DIY skills.
Price: 230, for which you will receive all meals and accommodation, and leave with the frame of a 4m dome and a manual. The course is largely practical, with a discussion on the history and uses of geodesic domes.
email: lili@lowimpact.org
www.lowimpact.org