Sailing is a great way to escape, get back into shape physically and mentally, and just a great holiday. And you don't have to know how to sail to go on a sailing holiday. For the price of a hotel room, yachts can be chartered with a small crew, so you can just sit back and relax.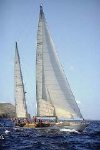 Here's a selection of the best places to rent bareboats and skippered yachts around the UK.
Sun sail rent bareboats for experienced sailors, skippered boats and luxury boats in 23 different countries. So you can just fly to wherever you want to sail, they'll have the boat ready and provisioned when you arrive.
Order a brochure and book online.
Action sailing rent sailing boats from Southampton on the South coast in the UK. Prices start at 950 a week for an 8 berths boat.
Brittany Sail is a small family business in Brittany, France. Go on a sailing cruise for a week and stay in one of their cottages for the second week. From 495 per person for 2 weeks.
Cruise Ecosse will take you around Scotland on their 8 berth yacht, for 350 per night for the whole boat.
Links
Directory of rental places worldwide
48Norththe internet sailing magazine with boats for sale, boat reviews etc