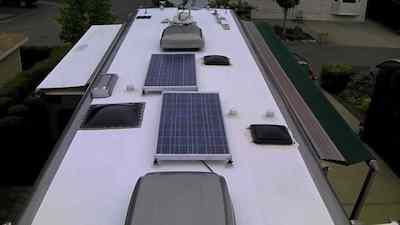 Thomas "Tim" Lemieux lives in an unlikely showcase for green energy: a 1997 Winnebago recreational vehicle.
Scale a narrow ladder up the side of the motorhome, and a compact rooftop solar farm comes into view. Photovoltaic panels adorn the top, and even the front hood.
They are linked to a series of batteries that help distill and cool water for drinking. Excess water and power feed an evaporative "swamp" cooler that keeps the cabin comfy.

Lemieux, a retired electronic engineer, rarely ventures in the vehicle beyond Fiesta Island, where he is known to offer free battery charging to other motorhomes and passing electric vehicles through an electrical outlet on the side of the RV.
With several new energy innovations in progress, Lemieux is consistently chasing a dream of off-the-grid energy independence. U-T San Diego stopped by Lemieux's motorhome recently to learn more about his energy philosophy and penchant for electronic gadgetry.
Q: How much electricity can the camper generate during the day? How long can the power last into the night?
A: The energy produced via solar can last 24 hours a day using all systems in the coach — except one. The standard air conditioner can run at full power for about five hours during the day, or about three hours at night. But that's enough to keep cool. I also am able to charge my all-electric car, a "smart" brand two-seater.
Q: What sparked your green-motorhome project, and how long have you worked on it?
A: I got interested in solar in the 1980s and then created two solar vehicles in Florida in the 1990s. The first was a tricycle powered by solar panels, designed to give greater mobility to the legally blind. I also made a small solar-panel car that won an award from the state. I sold four of those but couldn't turn a profit.
Five years ago I purchased this motorhome and thought I would add solar panels to avoid plugging it in. The project has been growing ever since.
Q: What do you hope to accomplish?
A: I hope to achieve funding for a commercial-style green motorhome that is totally computer-operated and -monitored.
Q: What other gadgets are you working on?
A: I am adding a water maker that produces heat in the winter, a solar hot-water heater, and electronic switches that automatically activate the green motorhome when the sun comes up. On a more challenging note, I am honing equipment that substitutes propane cooking gas with methane captured from the bathroom waste tank.
Q: What kind of comments to you get on the motorhome?
A: Onlookers and other motorhome owners love it. One solar company here in San Diego refers clients to me who want solar on their vehicles.
Q: Do you patent your innovations? Are manufacturers working on similar ideas?
A: I have patents pending. All the technology in my motorhome is current technology that I modified, merged and installed. A motorhome specialist told me that I'm ahead of the manufacturers. But electric-drive or hybrid-electric RVs are on the horizon.
Q: What did you do previously as an electronic engineer? Is this more satisfying?
A: I worked for Kearfott, a German subsidiary of the Singer Corp. that helped manufacture the moon landers. I came to California to work for a private investor as his personal engineer, tinkering with everything from security cameras to golf carts and a jukebox. I'm having the most fun now. Thomas 'Tim' Lemieux
Age: 70
Occupation: Amateur green-energy inventor, retired electronic engineer.
Pastimes: Drummer with Latin Classics Band, The Moonlight Serenade Orchestra, and for Highpoint Church in Tierrasanta. Fitness instructor at 24-Hour Fitness and national representative for the Veterans Affairs MOVE (Motivating Obese Veterans Everywhere) program.