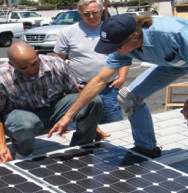 Here is a listing of some of the best Renewable Energy training courses around the United States. For a more thorough list, visit the Renewable Energy Training Catalog published by the Interstate Renewable Energy Council.
Also, check out this blog series from Mother Earth News contributing editor Dan Chiras about finding a green job in the field of renewable energy.
Solar Education Programs
The Evergreen Institute's Center for Renewable Energy and Green Building
303-883-8290 or info@evergreeninstitute.org.
Located in Gerald, Missouri, Evergreen, Colorado and Clarendon, New York but hosts classes across the country.
Alaska Renewable Energy Programs
479-524-9500
Fernando Vega- Program Director fvega@jbu.edu
Siloam Springs, AK 72761
Arizona Renewable Energy Programs
Joseph Costion- Dept. Chair- 928-526-7696 joseph.costion@coconino.edu
Alternative Energy Technician Certificate, AAS degree in Alternative Energy Technology
520-206-4500
Tucson, AZ
Solar installer certificate, AAS degree in Building and Construction Technologies with concentration in solar installer.
California Renewable Energy Programs
Solar Living Institute 707-472-2450
P.O. Box 836, Hopland, CA 95449
Workshops in California or on-line training
International Brotherhood of Electrical Workers– Union 551- Santa Rosa, CA
John Lloyd- 707-542-3505
Offers classes toward certification
707-792-6929
Ret-training@sunpirate.com
ISPQ Accredited, located Cotati, CA
510-642-4151
Intro to PV Systems, Professional Program in Solar Energy and Green Building, Certificate in Construction Management
925-685-1230
Pleasant Hill, CA
Alternative energy technology: PV systems certificate
Certification in Solar Installation and Integration
San Bruno, CA
pmartinez@co.sanmateo.ca.us
888-893-0367
Fremont, CA
Master certificate in renewable energy, renewable energy boot camps, on-line courses, ISPQ accredited.
Ridha Hamidi- 408-864-8999 x 3159
Cupertino, CA
Intro to PV Tech, PV Tech Field Project
408-625-7400
Throughout California
408-840-4466
East Los Angeles Skills Center
323-224-5970
PV Installer Introduction and Certification preparation courses
866-545-5441 or info@greencareerinstitute.com
Throughout California
800-732-7410 or allied@alliedschools.com
Solar business, intro to PV, advanced PV. On-line courses.
760-795-6820 or 888-895-8186
Oceanside, CA
One week courses in business strategies and PV
Colorado Renewable Energy Programs
970-963-8855
Carbondale, CO
ISPQ Accredited Renewable Energy Education Program (REEP) on-line and hands on workshops offered all over.
iCAST- International Center for Appropriate and Sustainable Technology
720-881-4639
Lakewood, CO
On-line training, classroom training. Some free training.
Doug Mugge- Department Chair- 303-797-5863
Littleton, CO
Active Solar Thermal Systems Technician certificate
Florida Renewable Energy Programs
321-638-1000 or Sherri Shields, Asst. Communications Director- 321-638-1010
Cocoa, FL
Michigan Renewable Energy Programs
Michigan Energy Demonstration Center at Northwestern Michigan College
231-995-1300
248-246-2553
Dr. Debra Row- dgrowe@oaklandcc.edu
Certificate in Renewable Energies and Sustainable Living
Lisa Richter- 586-445-7191
Renewable Energy Technology Certificate
Montana Renewable Energy Programs
The University of Montana, Missoula
Jenny Gorsegner- Program Assistant- 406-243-7916 jennifer.gorsegner@umontana.edu
Tom Gallagher- Department Chair- 406-243-7814 thomas.gallagher@umontana.edu
Energy Technology Program, online but majority of classes still offered in traditional classroom
New Mexico Renewable Energy Programs
505-327-5705 or 866-426-1233 (toll free)
Farmington, NM
Randy Grissom- director Sustainable Technologies Center- 505-428-1641, randy.grissom@sfcc.edu
Certificate in Solar Energy
New York Renewable Energy Programs
SUNY Ulster Sustainability 845-339-2025
Courses in Office of Continuing and Professional Education
Oregon Renewable Energy Programs
503-977-4527
Sanda.williams@pcc.edu
Electronic Engineering Technology in Renewable Energy Systems- AAS degree or one year certificate
Northwest Energy Education Institute at Lane Community College
541-463-3977 or 1-800-769-9687
info@nweei.org
4000 E. 30th Avenue, Eugene, Oregon
AAS in Energy Management, Renewable Energy Technician, Water Conservation Technician. Certification in Sustainable Building Advisor, Residential Energy Auditor, Building Operators Certification, Energy Management Certification. Customized energy training too. ISPQ Accredited!
Texas Renewable Energy Programs
512-443-5725 or info@imaginesolar.com
Austin, TX
Degree programs- 512-223-6404 vman@austincc.edu
Continuing education/Certification programs- 512-223-7525 or eardizon@austincc.edu
ISPQ accredited!
877-558-7479
training@ontility.com
Washington Renewable Energy Programs
206-546-4101
16101 Greenwood Avenue North, Shoreline, WA 98133
Associates degree, three certificate programs
Lake Washington Technical College
425-739-8100 x 660 (Dr. Grace Lasker)
11605 132nd Avenue NE, Kirkland, WA 98034
AASD – Energy & Science Technician, Energy Technology Certificate of Completion
Wisconsin Renewable Energy Programs
Northeast Wisconsin Technical College
Solar Energy Technology Program: 920-498-5444 or 888-385-6982 (Associate Degree)
Renewable Energy: 920-498-5461 or 800-422-NWTC x. 5461 (Solar Certificate)
1-877-600-4757
Mike.harvey@synergizedsolar.com
River Falls, WI
Consortium for Education in Renewable Energy Technology (CERET)
Madison, WI
Renewable Energy Certificate
Midwest Renewable Energy Association (MREA)
715-592-6595
Offers NABCEP certification training programs
Green Job Resources
Great Green Careers Find green job listings and articles about exploring different types of green careers.
American Solar Energy Society (ASES) The organization's 2010 conference will be held in from May 20-22 in Phoenix, and will include a Green Careers Resource Center. Check out the link above for other green job information from ASES, including their most recent green job reports.