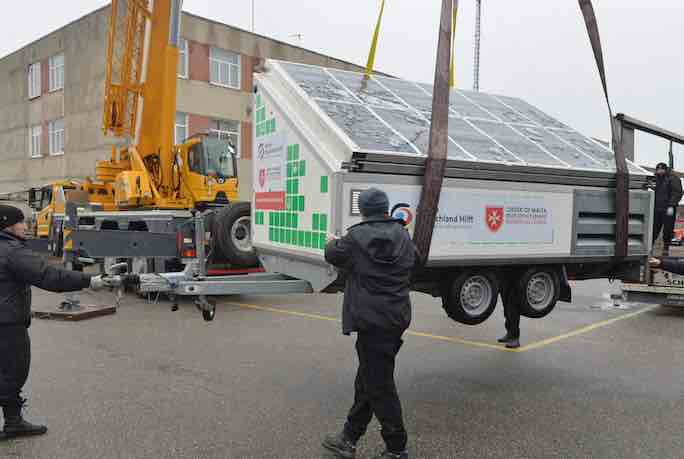 Rolling blackouts are the reality of everyday life in Kyiv, the capital of Ukraine.   Russia's war is increasingly targeting the civilian population and the country's electricity infrastructure, in a bid analysts say seeks to break the will of the people.
Now the world has become complacent about the considerable dangers posed by the Russian-controlled Zaporizhzhia nuclear plant in Ukraine, the UN nuclear watchdog has said within the past few hours.
Moscow captured the plant, Europe's largest nuclear site, in March last year raising fears of a nuclear disaster.
Rafael Grossi, director general of the International Atomic Energy Agency (IAEA), is working to set up a safe zone around the facility. Mr Grossi, speaking in the Ukrainian capital of Kyiv, said a nuclear accident could happen any day and reiterated the situation at the plant was very precarious.
Poweroutage.com had been tracking Ukraine's outages, but has stopped. Ukrainian officials began classifying the data, given that it can be used by the enemy to locate vulnerabilities.
But that has not affected the US-based effort to provide power to Ukrainians.  New Use Energy and a group of nonprofits are working with medical professionals and others to keep the lights on as Russia makes Ukraine's grid a war-target.
Paul Shmotolokha is CEO of New Use Energy Solutions, and has been working to bring microgrid equipment — largely portable solar and storage — to Ukraine since the start of the war.
In the early days of the conflict, the company, along with several nonprofit partners, provided energy equipment to the war front where the destruction of buildings and infrastructure caused localized power outages.
But Shmotolokha, tied to Ukraine through family and friends, knew that the worst was still to come. "I was sitting there the whole time saying, they're going to go after the grid. In the 21st century, you take down the grid and you hurt society."
Psychological and physical harm
Or as Andrian Prokip of the Ukrainian Institute for the Future said in a blog, such destruction goes beyond the physical: "Besides creating immediate economic hardship and logistical problems, attacks on the power system are a powerful way to apply psychological pressure to citizens."
Moldova, a staging ground for humanitarian aid for Ukraine, is the latest victim of the Russian attacks on the grid that began in earnest last October with a massive missile and drone attack that heavily damaged transmission lines and caused 1.4 million Ukrainians to lose power. Off-Grid advocates point to such attacks as an example of the danger of relying on centralized energy systems with a single point of failure. They can cause power outages for miles beyond the actual point of attack.
Shmotolokha is aware of what's happening because of his frequent communications with doctors and others in the country as he tries to get solar panels, batteries, medical headlamps and other equipment to those in need.
Everything is warehoused for distribution as it is needed. Solar panels, lithium iron phosphate batteries, inverters, solar trailers and telecommunications equipment.
Shmotolokha said the more energy systems they provide to hospitals, the more requests they get, as medical professionals realize the value of the systems and the ease of their installation and use.
Doctors become energy experts
"There is a hospital that we work very closely with that we've given four solar generators so far. I actually sit on WhatsApp probably twice a week with — can you believe it — the doctor in charge of the emergency room and the ICU who has now become a solar expert," Shmotolokha said.
New Use Energy focuses on commercial-grade solar that can withstand harsh conditions. Portable, the systems can be lifted by two or three people. By necessity, they also are easy to install and operate. "You punch one button and it is on," he said.
Where work is more complex, the groups sometimes train Ukrainians, but Shmotolokha is increasingly trying to locate solar installers within the country.
Despite utility expertise in Ukraine, its grid is beginning to perform like that of Haiti, the Dominican Republic and Venezuela — countries whose electric service is spotty.
"The utility company is great, but there is only so much you can do if your generation goes down or a substation — there are long lead times on substation materials," he said.
"It is cold. I'm concerned about fires. I'm very concerned about portable (gas) generators. I've actually been on Twitter advising people to make sure to use them outside because you can die from carbon monoxide poisoning. Turn them off before you refuel them," he said.
New Use Energy will hold a webinar to discuss the energy situation in Ukraine at noon EST, Nov. 30; Solar Generators in Ukraine: A Case Study on Resilience | New Use Energy