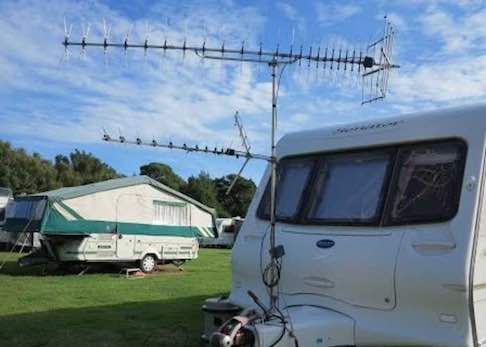 If you are a part-time off-gridder in the UK, already paying for y0ur TV license elsewhere, then you don't need to pay the £159 at the second address.
Your home TV licence covers your mobile use outside the home, as long as you watch TV on battery power.
If you plug your device into a mains socket outside your home, that site needs its own TV licence. But if the power  is not mains but a battery, then you don't need to pay for a license.
Technically, this should also apply if you plug in your device to watch TV or BBC iPlayer on a train, and so on, though that would be somewhat hard to control.
The law says:
Your main home's TV Licence will cover you unless anyone is watching live on any channel, TV service or streaming service, or using BBC iPlayer*, on any device, at the same time at your main licensed address.
In this case you will need to complete a declaration form, this should only take a couple of minutes –
Non-simultaneous use declaration form – English (PDF 92 KB opens in a new window)
This will be news to many part-time off-grid dwellers, who may have received warning letters demanding they pay the annual license for their second home.
The loophole also applies to
Boats, touring caravans or vehicles.
Static caravans, mobile homes or moveable chalets.
Any device powered solely by its own internal batteries (i.e. it is not connected to an aerial or plugged into the mains).
This would include viewing TV in any shed or home which, used renewable-energy-powered batteries  (ie not the mains).
TVs and aerials are still common, but internet streaming means they are no longer required for watching television. The new licensing rules therefore cover not just TVs but PCs, laptops, tablets and smartphones, games consoles such as the Xbox and PlayStation, streaming devices from Roku, Amazon and others, set-top boxes and personal video recorders (PVRs).