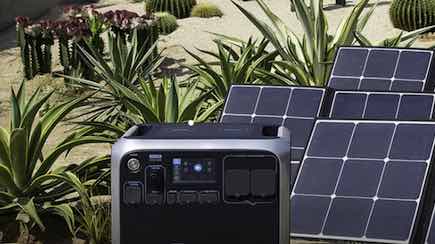 If you want to Work From Anywhere, and you need to make sure you never run out of power, then this pairing will allow you a couple of days heavy usage to charge a laptop and cellphone (*assuming 4 hours of daylight solar charging per day).
The first is a BLUETTI Portable Power Station AC200MAX,for under $1900 at time of writing. A 2048Wh LiFePO4 Lithium Battery, weighing about 60lbs (Expandable to 8192Wh w/ 4 2200W AC Outlets (4800W Peak), 30A. Find it at  https://amzn.to/3Evf8zK in the USA, and the same kit about £2000 in the UK
Amazon is offering the Renogy 400W Monocrystalline Solar Off-Grid RV Kit for just $514.42 shipped in the US. https://amzn.to/3GlXoYW and £700 in the UK. In the UK you might prefer to go with this 200W Portable Solar Panel Suitcase for £349. It will not give you the power of the 400W of the RV kit, but its cheaper, lighter, and if you sometimes charge your battery from the mains and just use the panel in an emergency, it would be a cheaper solution.
the US deal is down from a normal rate of $600 or more at Amazon, and today's deal marks the best US panel price that we've tracked so far in 2022. This kit has the ability to output up to 1,600Wh per day with just four hours of sunlight availability. You can install the system on top of an RV, home, boat, or anywhere really. Included in the package is four 100W solar panels, a 30A PWM LCD charge controller, mounting brackets, cables, and much more so you can get up and going with off-grid power as soon as it arrives. So, if you're looking for a way to power your office – whether off-grid or during a blackout, then the above are a solid choice.
Check out more of our UK recommendations here