LOW PRICE SOLAR PANEL
Coleman's Exponent Flex 5 solar energy pack recharge your mobile phone and other small items on the move – at a better price than you will find anywhere else.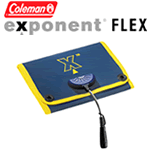 We have done a deal to get our readers the best possible price on a great little powerpack that will convert solar energy into trickle charge electricity.
The Exponent Flex 5 is a foldable solar charger, the size of a paperback book. It'll charge your MP3 player, digital camera or GPS in a few hours, wherever you are. Ideal for outdoor lovers, campers and backpackers, it is practical, resistant and waterproof.
Normally retailing for 80, we are offering the Exponent Flex 5 for 65.75 INC post and packing within the UK. Please add 3.50 outside the UK.
Payment by Paypal — please — email nick@off-grid.net