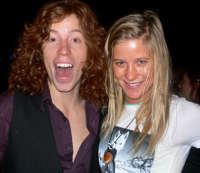 American Olympic snowboarder Hannah Teter has returned to Vermont — to live in her yurt. "Mom has a huge garden and fruit trees," she told People magazine "and I love it there.
"I helped my parents get solar power this past year, and I'll be running on solar and hopefully wind power with my yurt so I can be completely off the grid."
Meanwhile, Olympic gold medalist skateboarder Shaun White says he is anxious to return to his 1969 Volkswagen Van.
Hannah Teter, however, is the off-grid flavor of the month.Earlier this year she turned the kink-meter up a notch by offering her panties for sale to raise money for Doctors Without Borders and the group's efforts in Haiti. It's just one of the many charitable endeavours the defending gold medallist in women's halfpipe supports. Teter figures she's donated more than $200,000 of her contest earnings since Turin.
In 2008, she started her own foundation, Hannah's Gold, which raises money by selling tree sap of all things. All proceeds from the sale of Vermont's Finest Grade A Medium Amber maple syrup go toward feeding hungry children in Africa who have been orphaned by AIDS.
Clearly an entrepreneur at heart, she's smart enough to cover all perversions for a good cause.
"I'm just really aware and have a different view of things. I see people suffering and it strikes a chord in my heart and some people it doesn't. Everyone's born different. I just have a lot of passion to help out in the world and be one of those helping hands who people can count on."
Teter became a household name in her country after her dazzling win in Italy, landing a guest spot on David Letterman as well as lucrative endorsement and sponsorship deals. She's won an ESPY Award for Best Action Sports Female and has been named the U.S. Olympic Committee's Sportswoman of the year. Most recently, she appeared in just a little more than her underwear, posing in a bikini for Sport's Illustrated's annual Swimsuit Edition.
"It's fun to be sexy," said Teter, in the leadup to the Vancouver Games. "Growing up in Vermont in the middle of the woods, I never, ever dreamt about being in Sports Illustrated."
Never mind half-naked.
The racy pics of her sporting a white bikini top and cherry red bottoms — plus her snow hat — are enough to convince a fervent beef-eater to give up red meat. Teter has been a strict organic vegetarian for years, although we don't know if it extends to ice cream.
One thing for sure, Mickey-D's is definitely out, something she made clear by cracking on one of the Game's biggest sponsors at the American halfpipe team's introductory press conference last week.
"They have McDonald's at the athletes village, so I hit that up every morning. Not!" said Teter, when asked about her preparation for today's event.
Think Goldie Hawn and you'll get a little insight to the young woman's charm. Silly, irreverent, effervescent — and that was all within the first 10 minutes. She's an unabashed goofball, full of stream-of-conscious answers.
"My parents raised me on an organic diet and taught me how to garden and just let me basically do whatever I wanted as a kid," said Teter, who will have the support of her parents, an uncle and cousin here at Games, all of them living together in a rented house. "I just felt free and supported and I think they allowed me to be a good snowboarder."
The youngest child of two former flower children who met at a concert, Teter was born at home and learned early the value of family. Big brother Abe remains her coach to this day and the whole clan travelled to Africa a few years ago to see the impact of her charity work.
"It filled my heart to see the impact in Kenya," said Teter, who was listed by Forbes as the 10th highest-earning athlete at the Olympics, pocketing more than $1 million through her endorsement and sponsorship deals in 2009.
"It's better than spending money on cars, jewelry and expensive things. I think material things are a waste of time."
Easily one of snowboarding's most colourful characters — and that's saying a lot — Teter came into the Games somewhat under the radar.
It's a role she relishes, happy to ride in the shadow of teammate and defending men's halfpipe gold medallist, Shaun White.
Teter took a two-year hiatus from the competitive snowboarding scene after winning gold in 2006, but returned last winter to finish on top of the podium twice at World Cup events and to take bronze at the Winter X Games.
"Make sure all the ladies out here know they can get some Sweet Cheeks Panties soon — sweetcheekspanties.com,"
said Teter, smart enough to not let a prime advertising opportunity pass her by.
Cheeky Monkey.