The Eco- marathon we previewed last week was a close contest between 'Inspiration' and 'Team Green' on Sunday at the
Grampian Transport Museum in Scotland. Team Green took the lead after the first run with Inspiration not far behind.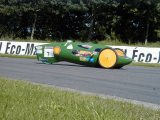 Inspiration in action
They both improved in the second run as Inspiration closed the gap and finally went into the lead on the third run.
Inspiration was the winner by 26mpg, with a figure of 5964mpg.
We'll be able to take it to the bigger Eco-marathon in France now says Dave Thorn, leader of the team, sponsored by Milton Keynes College.
Gasoline, diesel, LPG and hydrogen fuelled vehicles competed for the fuel-efficiency prize. The favourite before the race was the hydrogen car Gh2ost built in just 2 months by Scottish company SIgen.
Gh2ost did not complete a run due to technical problems with the steering system. The mechanics let us down explains Dave McGrath, Sigen managing director. We got the car working but didn't have time to practice on Saturday, so we chose to withdraw from the race. McGrath is confident that Gh2ost will live up to its reputation as the most efficient vehicle ever to move on wheels and intends to prove it before the end of the year.
So keep an ear out, we haven't heard the last of Gh2ost.