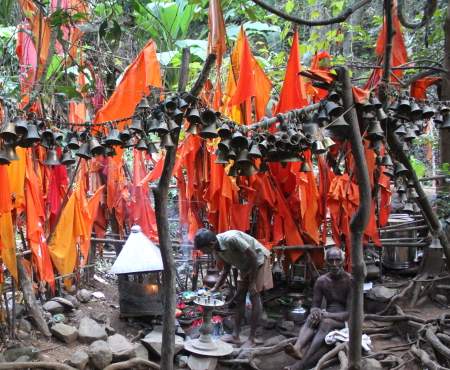 .
Here's some ideas about where you could holiday off the grid in India…
MARITIME ADVENTURE
Sunbathe on pristine-white sand beaches, hunt for seashells and swim in the warm sea. Aquatic enthusiasts could take a dip and get `up close and personal' with some of the world's rarest underwater marine life, including schools of dolphins, sharks and manta rays in Andaman and Nicobar Islands.
For an out-of-the-ordinary experience, one could head to either Little Andaman Island in a helicopter, hike through tropical wilderness to cool waterfalls or visit the very remote Long Island, a tiny speck in the Andaman and Nicobar archipelago, about a 1,000 km off the Indian coast in the Bay of Bengal. It is a six-hour boat ride from the capital, Port Blair.
The jetty ride to the island offers a view of thick groves of mangroves. Another place called Baratang Island, located 100 km away from Port Blair, also offers a boat safari through a tunnel of mesmerising mangroves.
UNPLUGGED IN VEGAN FOREST
A genuine detour from the day-to-day existence, life on Sadhana Forest in Auroville, Puducherry, is truly fulfilling! /there are many off-grid communities – you can find all the links here. Members of the forest, an international volunteer community, live in eco-huts and rely entirely on solar and windmill for energy needs. Their eco-friendly way of life also includes veganism, alternative construction, biodegradable toiletries, recycling, food composting, riding bicycles, compost toilets, and purchasing local, organic foods whenever possible. They have been working on restoring indigenous topical pines to the land to help curb erosion, anchor soil and save water. Stay here for free, simply in exchange for some volunteer work on the organic farm or chip in cooking meals or maintaining solar panels.
HUSHED HOMESTAY IN THE GHATS
Solar-powered LED lights, natural ventilation and homegrown supplies define this little gem tucked away in the Western Ghats on the border of Goa and Karnataka. Off The Grid, as it's called, is not connected to any supplied utilities like electricity, water, internet or phones. Run by whitewater specialist John Pollard and his wife Sylvia Kerkar, a pottery artist, the place is eco-friendly, small, organic, rustic and ultra low impact. Be it trekking, waterfall day drips or night safaris, this is a perfect noise-free vacation. A Bengalurubased travel company Getoffurass has organised Off-Grid vacations. "The region is not connected to the grid, forcing travellers to live off the land exploring various local technologies on the farm like cooking over fire, build ing structures using mud, hay and more," says organiser Santosh.
CARBON POSITIVE BREAK
Anyone who has been to Spiti knows how off the grid it can get. High-altitude monasteries and nunneries and elusive wildlife, flora and fauna in an untouched land! "I have camped at Batal, the nearest habitation point near Chandratal, a highaltitude lake in Spiti. There is nothing else for miles around.
Camping in Spiti can be a genuinely off-the-map experience with only a starry sky for lighting and river water for cooking and drinking," recalls Mridula Dwivedi, a passionate trekker and blogger. Another way to see Spiti off the grid is to travel with Ecosphere, a volunteer organisation that's running entire villages on wind solar hybrid power in the area! Go on yak safaris and rejoice in traditional theatre of the wandering lamas.
AROUND THE WORLD
It's hard to imagine crowd-free beaches in Thailand when Phuket and Pattaya attract legions of partygoers and backpackers every year. But if you are ready to renounce the buzz, there are islands that are anything but noisy. Try Koh Phayam on your next Thai escapade for a true "offthe-beaten path" island vacation with pristine and almost deserted beaches.
The surreal landscape of the Mongolian hinterland is hard to come by. A landlocked nation between Russia and China, it is a great silent escape rich in nomadic traditions. Treat yourself to folklore and falconry in this country of extreme weather that is as off the grid as it can get.