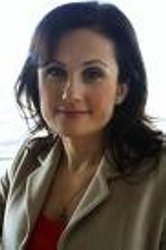 MS Technology head, Sam Shaw Morgan Stanley bank has unveiled a plan to build a colossal $400m UK-based onshore but off-grid data centre powered by tidal energy. In one of the most ambitious examples of this type of emerging activity Morgan Stanley is exploiting their infrastructure and project-finance capability to promote generation projects that will directly serve its own immediate operational needs.
Working with Atlantis Resources Corporation, a developer of tidal current turbines in which the bank owns a majority stake, Morgan Stanley proposes to install an array of tidal turbines in Scottish waters, marking the largest tidal energy project globally. The visionary data centre would require about 150 megawatt hours of power, equivalent to the power required to run a small European city. In its initial phases, the installation would take electricity off the local grid, after which it would migrate onto tidal power connected by a dedicated cable, also funded by Morgan Stanley. By building a private cable, the bank will circumvent the UK's creaky transmission infrastructure, and with it the biggest ongoing obstacle to realising large-scale renewable projects.
Futuristic as it sounds, and indeed still is, Morgan Stanley's vision is not entirely original. Last September, it was revealed that search engine giant Google, operator of some of the world's largest data centres, may be planning a similar installation. According to a patent filed by the company, Google has designed a 'water-based' data centre which would use wave-generated energy to power and cool servers located on a ship or container anchored offshore.
Although not as radical as Google's vision, Morgan Stanley's project is not without its risks. The world's first tidal-powered turbine was only brought online in Northern Ireland a year ago after more than a decade in development. Morgan Stanley hopes, perhaps somewhat ambitiously, to have the first series of tidal blades operational by 2011, even though the bank will also have to wait to procure planning permission and potentially regulatory approval.
It remains unclear as to what extent the bank plans to use the data centre space for its own IT operations and to what extent the utility will be leased to third parties. Given its low-latency requirements as a trading powerhouse, it seems unlikely that Morgan Stanley would locate the majority of its own servers in Scotland, although some applications may be housed there. Since the premium on UK data centre space remains high, leasing the majority of the utility to third parties would reap a faster ROI than any operational savings the bank may derive from moving its own servers to the new utility. Morgan Stanley had not responded to queries on this and other issues at the time of going to press.