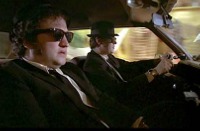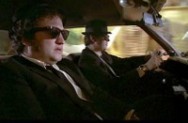 …on a mission from God The best movie car chase for my money is not Bullitt, not Vanishing Point, not even The French Connection.  For a virtuoso display of evasive driving,  there is no equal to the fabulous Blues Brothers classic mall chase – and it has the best music as well.  The Brothers' ex-cop car with "cop shocks and cop springs" was made for the job.
There's a serious point to this – living off-grid, never rely on the cops to bail you out if there's trouble – whether from local rednecks who just don't like you all the way up to marauding gangs.  In the event of a major social collapse, they will come flooding out of the cities looking for your food and water, so better get ready with this eight point plan:
1. MODIFY YOUR VEHICLE
Prepare ahead of time with, at a minimum, run-flat tyres that will operate at high speeds when punctured.
If possible, also add high-quality shocks and springs, bullet-resistant windows, stainless-steel brake linings, a heavy-duty radiator and dual-ram bumpers.
If you want to get serious, add layers of Kevlar on the car interior, ballistic wrap around your petrol tank, a dual battery system, an electric-shock system on the car exterior and steel plates (with gaps for airflow) protecting the engine. Keep in mind that any additional weight will affect the car's handling.
2. STOP THE CHASE BEFORE IT HAPPENS
Quickly disable unoccupied pursuit vehicles by sticking a knife into their tyre sidewalls or shattering their front windscreens (shame the Brothers never thought of thatone)
3. BLIND THE ENEMY
Carry a handheld spotlight or 500-plus-lumen flashlight to shine into the eyes of pursuiing drivers. Ideally, install spotlights or flashing strobe lights on your vehicle.
4. DISGUISE YOUR CAR
Create a panel of switches to independently control the lights of your vehicle, so you can become near-invisible at night. Keep night vision goggles in your car so you can drive in the dark.
5. STAY IN CONTROL
The goal in a car pursuit is not to be the fastest, but not to crash. Unless you have a far superior car to those of your enemies, try not to exceed a safe speed, so you can remain in control of your car.
6. LEARN EVASIVE DRIVING
Practise evasive driving manoeuvres, like effective cornering. If the pursuit vehicle is trying to pit you (by ramming your rear side panel and causing you to spin out), continually brake and accelerate.
7. CLOSE THE DRIVER'S-SIDE GAP
Never let a car pull alongside you, especially on the driver's side. To prevent this, don't leave a lane open on the driver's side of the car. If the enemy is still able to get in position for a drive-by attack, slam on the brakes.
8. SEEK COVER
If you need to abandon the vehicle, pull in front of a crowded, covered area, such as a shopping mall. Walk inside and lose yourself in the crowd.
If possible, carry a shopping bag with a razor, change of clothes, and other identity concealment gear. If there's no crowded space nearby, find a dense area with cover, like a forest, where only foot pursuit is possible.