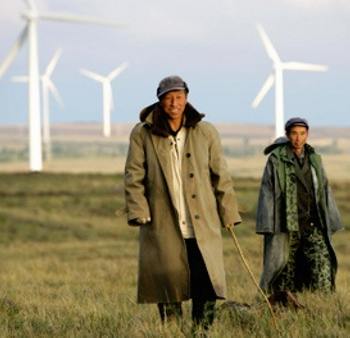 China is now the world's largest generator of wind energy and nearly half of the power produced by wind turbines inside China is not connected to the Grid. If that works for the world's fastest growing economy, then why not in the West as well?
China's installed wind-generation capacity reached 41.8 GigaWatts (GW) at the end of last year, compared to 40.2GW in the US.
The China Electricity Council said only 22.9GW was grid-connected in August last year, although there have been additional installations since then. So around 20GW are produced by wind farms or single turbines generating  power that is only available in the local area, causing an increase in population and industry in these areas.
Chinese companies lead the world in solar manufacturing but most solar modules are destined for export, with relatively little capacity in the country itself. China's domestic wind industry, by contrast, is growing rapidly. China has set an ambitious target of 90GW by 2015.
The country's production of turbines ballooned by 62 per cent in 2010. Its turbine production capacity rose to 16GW last year, putting it ahead of the US for the first time, according to a report in the state-run Xinhua News Agency.
A number of further large-scale projects are in the pipeline, including the 5GW Jiuquan project in Gansu Province, the 2GW Hami project in Xinjiang, a 2GW project at Kailu in Inner Mongolia and the 1.5GW Tongyu project in Jilin Province.