Megacorp General Electric doesn't intend to be left out of the race for the new oil. The energy giant is opening a new $52 million research lab for renewable energy technologies near Munich, Germany.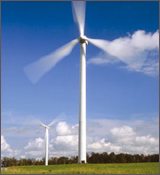 The new lab is just another card in GE's game to dominate the market for renewables.
The company's been expanding into wind power for the last two years and today GE Wind Energy is one of the company's fastest-growing divisions. It is close behind world leader Vestas, having picked up another 9% of market share from 2002 to 2003, to reach 18% in 2004. And in March, the company acquired the U.S. photovoltaics manufacturer AstroPower and now sells complete photovoltaics systems for homes.
The new lab, on the campus of the Technical University of Munich in Garching, Germany, will also be an attempt to bridge the divide between university and corporate research. GE recently began collaborating with the university on the development of better agriculture-based fuels for gas turbines.
GE also aims to forge ties to the local industry and negotiations are under way with BMW to collaborate on hydrogen storage and hybrid engines and sensors.
The race has started and GE's among the leaders. Let's hope this will boost research and the development of much needed cheaper and more efficient renewable energy technology.
Links
the European Wind Energy Association