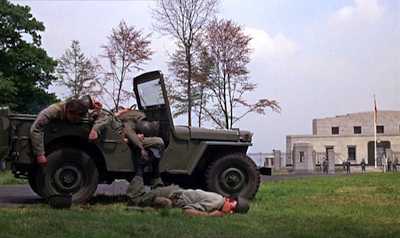 The First US Army base in the Continental USA to go completely off the grid has been announced, with huge cost savings.
A ribbon-cutting ceremony is scheduled for May 6 at Ft. Knox, KY, to celebrate the installation's "complete energy independence," the Army announced April 30.
Its a hugely symbolic moment because The United States Department of the Treasury has maintained the Bullion Depository on the post since 1937. This is the heavily guarded gold bullion stock of the US government.
Using natural gas mined from underneath the base, Ft. Knox is the first military post to go "completely off the grid," according to the service. A 2009 ice storm in Kentucky helped spawn the project, as much of the state, including Ft. Knox, was without power for several days. The Army estimates that the base's energy independence will bring annual cost savings of $8 million.
The United States Bullion Depository, according to Wikipedia, "is a fortified vault building located within the United States Army post of Fort Knox, Kentucky, used to store a large portion of United States official gold reserves and occasionally other precious items belonging or entrusted to the federal government. The exact contents of the United States Bullion Depository are unknown as there has never been an approved full audit since the early 1930s. It is estimated to have roughly 3 percent of all the gold ever refined throughout human history."
The 109,000 acre (170 sq mi) site south of Louisville dates back to 1871.