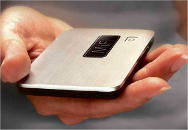 Verizon MiFi Forbes magazine recommends "stabbing into the wilderness for a five-day fly-fishing trip,  toting your BlackBerry."  Sadly the corporate muppets writing  for Forbes think they would manage to recharge the device using a  Solio Mg ($200 from Better Energy Systems). But this products sucks. Its magnesium blades fan out to reveal solar panels. Solio's battery stores barely enough power to charge most phones; an hour of clear sun will give most cell phones 5 minutes of talk time. Start in the morning: It takes ten hours of direct sun to fully juice it giving you a max of 30 minutes.
Forbes also recommends the PHS300 ($179 from CradlePoint Technology), a tiny box that turns your smart phone or BlackBerry into a personal, portable Wi-Fi hot spot.  but the Vodafone/Verizon equivalent is a far superior product. The PHS300 also connects via USB to cellular broadband cards, allowing more than one computer to access the Internet. Your surfing speed depends on the phone company's wireless signal strength.
The Verizon/Vodafone MiFi plugs into your laptop and gives up to five machines good quality wireless broadband.