Wireless technology is making easier to live and work off-grid.
Wireless internet relies on satellites and small satellite dishes barely 30 cm in diameter. With one of these, it is possible to get a 1M bps connection — 20 times faster than internet via phone lines — even in remote areas.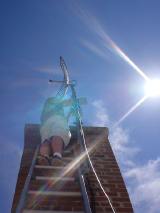 Although satellite technology has its limitations — it doesn't work as well if the weather's bad — it will be the obvious alternative to cable and DSL broadband for the areas which still haven't been wired. They represent 10% of homes and businesses in Europe and the USA. And it is these places with the lowest property values, which are the best for off-grid living
But wireless internet is particularly great news for households which are off the phone grid. It'll give them access to the web and to internet telephony for making calls.
Links
dialpad.com voicepulse.com callserve.com all have cheap rates for calls over the internet.
connectwireless.co.uk southern-electric wireless broadband in the UK