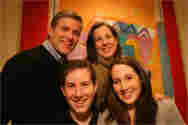 Wilson family: nothing Green about him VANCOUVER, British Columbia – A Canadian MP who has been rejected by his own party, joined the country's fledgling Green Party on Saturday.
Blair Wilson MP is apparently a total scumbag who represents one of the country's mst marginal seats and this is almost certainly an own-goal by Green Party leader Elizabeth May.
"Today we make history," said May. Yes, but for all the wrong reasons. Wilson has no record at all of support or even interest in green issues.
May expects the move to boost the fledgling party's bid to participate in televised debates in the expected fall election. But the sophisticated Canadian electorate will despise the opportunism.
Wilson, a Vancouver-area MP now sitting as an independent after he left the Liberal Party amid a finance investigation, will be the first Green to hold a federal legislative office in Canada or United States.
%authorad4%
Wilson has left of a trail of unpaid debts, controversial business dealings and election spending abuses behind him. None of the allegations have been proven, but given he is a Chartered Accountant any financial irregularies have to be assumned to be deliberate.
Mr. Wilson's own father-in-law (who claims he is owed nearly $2-million) is saying the MP is "not fit for public office."
"I think the public has a right to know about their representative," 79-year-old West Vancouver real estate mogul Bill Lougheed says of Wilson, his son-in-law. "He was doing so much damage to people."
Canadian Prime Minister Stephen Harper, whose minority Conservative government was elected in January 2006, seems almost certain to call a general election next week, and one of his advisers has pointed to Oct. 14 as a likely election date.
The Greens have never won a seat in a Canadian federal election, but some of their candidates have finished ahead of opponents from more established political parties including the New Democrats and Liberals.
The Greens have fielded as many candidates as the other parties in recent federal elections, but they have not been allowed in the party leaders' televised debates partly because they do not have a sitting member of Parliament
"We have established ourselves as party that should not be described as fringe," May told an Ottawa news conference.
The Greens say their exclusion is especially unfair because the separatist Bloc Quebecois, which has seats in Parliament but runs candidates only in the French-speaking province of Quebec, is allowed in the debates.
Wilson, who represents a wealthy suburban area of Vancouver, resigned from the Liberal caucus last year amid a family dispute over money and a complaint about his campaign financing during the 2006 election.
He was cleared of wrongdoing by Elections Canada, but the Liberals declined to take him back. May said the Greens thoroughly investigated the incident before accepting Wilson.
"That which does not kill you makes you stronger," Wilson said, sitting next to May at the news conference.
Political observers see the Greens as a potential problem for the leftist New Democrats, but they may also take votes from the main-opposition Liberals who plan to make a proposed carbon tax a major element of their election platform.
May said the Liberal's anti-global warming plan took ideas the Greens had already proposed.
But Liberal Leader Stephane Dion has agreed not to field a candidate in the Nova Scotia riding where May will likely run against Conservative Defense Minister Peter MacKay in the next election.
Lougheed is not alone in his opinion that Wilson, a businessman turned MP who was just appointed the Liberal Party's national revenue critic, is not fit for public office.
In addition to his father-in-law, former Wilson campaign workers and business associates have come forward claiming the MP committed grave breaches of the Canada Elections Act in failing to report campaign expenses.
Liberal insiders who worked for the candidate in the 2005-2006 election allege Wilson ran a campaign using cash payments and did not report all his spending.
They claim many campaign expenses were never reported to Elections Canada after Wilson, 44, switched his staff in favour of another team.
Earlier this week, a citizen in the riding filed an Elections Canada challenge to Commissioner William Corbett to have Wilson's campaign expenditures investigated.
"The election result was very close and had Mr. Wilson actually only spent what he was allowed to, he may well have lost. In the interest of a fair and accountable democratic election process, Mr. Wilson's campaign must be investigated," the submission alleges.
When asked about the status of the investigation, Elections Canada's Diane Benson said: "The Commissioner of Canada Elections never confirms or denies complaints or investigations."
B.C. Liberal organizer Mark Marrissen told the Province he recently was passed documents he submitted to the party's green-light committee, which vets candidates. If proven, the allegations would represent a serious breach of the Elections Act, and could bring penalties of fines, prison time, or a restriction on being "entitled to be elected or to sit in the House of Commons."
Among the allegations against Wilson, the Province has learned:
– Wilson did not report campaign expenses to Elections Canada, and paid for supplies off the books, in cash — a breach of the act.
– Wilson and his wife, Kelly, borrowed roughly $1.9 million from his in-laws to purchase six properties, and much remains unpaid despite the fact they have sold some homes.
– Wilson and his wife were subject to Social Services Tax Act liens on three properties and owe $2.1 million in bank mortgages.
– Wilson misled the media about the true extent of his business success, exaggerating the number of restaurants he founded and claiming to have sold an accountancy business his in-laws claim closed, among other discrepancies.
– Wilson lost hundreds of thousands of family investors' money in the stock market and yet billed them for management fees.
– Wilson's two restaurants, Mahoneys and Wilson's Steakhouse, closed. He was taken twice to the B.C. Employment Standards Tribunal for refusing to pay employees, was sued twice for failing to pay contractors, was twice compelled by the courts to pay GST owing, and also was taken to court by a supplier over $33,839 that was owed (this amount was later paid).
When asked to comment on the allegations about campaign expense discrepancies, Wilson, the Liberals' B.C. caucus chair, former associate critic for finance and now the national revenue critic, said, "These are just unfounded allegations.
"The only thing I can say is I had a very good fiscal agent that filed all the necessary documents. I have not heard anything with respect to these allegations from Elections Canada to date and if and when I do hear from Elections Canada, I'll have more to comment on."
Wilson's official agent, Gordon Holley, said he wasn't aware of cash payments or unsubmitted receipts. "I continue to not be aware of any improprieties with respect to the campaign finances," he said.