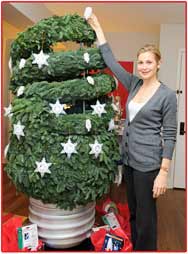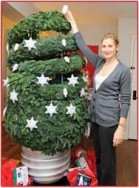 We hope she was well paidThis week saw Gossip Girl star Kelly Rutherford continuing to plug lighting products from Osram Sylvania with the switching on of their CFL-lit tree in a tacky New York office (pictured). What is going on behind the scenes in the PR department to make an event like this happen?
In recent years, the compact fluorescent light bulb (CFL) has become associated with all things environmentally conscious. This generalization can also be a curse because concerns that plagued early versions of the bulb become associated with the new product.
When it came time for lighting supplier Osram Sylvania to launch its new micro-mini Twist, the world's smallest CFL, it enlisted the help of Weber Shandwick's global strategic media group to make sure it got its greenie points across.
STRATEGY
'We wanted to raise awareness about the fact that not all CFLs are created equal, and Sylvania is a leader … in lighting,' says Stephanie Anderson, corporate communications manager for Osram.
TACTICS
The team began its multifaceted launch sending Sylvania CEO Charlie Jerabek on a media road show, which helped the story gain credibility in the eyes of top-tier and business media, a move that ultimately garnered a USA Today story featuring the Twist.
It also coordinated an in-market ground tour titled 'Products That Help the Planet.' On the day of the launch, Weber Shandwick enlisted the help of  Kelly Rutherford (pictured) as a celebrity 'luminary,' providing an additional hook for consumer media.  They negotiated the following quotes from her manager:
"SYLVANIA has made it easy for consumers to make eco-friendly lighting decisions with its new Living Spaces collection – I've put them everywhere in my new house and we love the instant-on, cozy light," said Rutherford. "When we lounge in the living room or entertain in the kitchen, we feel good about being energy-efficient without having to sacrifice light quality."
RESULTS
The PR team's efforts resulted in a direct impact on the business itself, helping to capture a 17% share of total CFL sales for Osram's largest retail partner, and increasing sales by 43% in six months.
The combined affect of all of the coverage resulted in a 57% increase in top-tier media coverage over the prior year.
In addition to the story featured in USA Today, interviews with Rutherford appeared in various print, radio, TV, and online outlets, including TV Guide, Us Weekly, and ABC Radio. The effort also garnered press from creepy 'green' sites, such as Ecorazzi.com (Ed: should be Econazi.com).
FUTURE
Osram will keep developing solutions and products, and is in the process of launching the second generation of the micro-mini CFL.
The company continues to look for new ways to raise awareness for what it is doing, from not only a product standpoint, but also a technology and an energy standpoint, Risi says.
OSRAM SYLVANIA PR TEAM: Osram Sylvania (Danvers, MA) and Weber Shandwick (New York) CAMPAIGN DURATION: December 2008-April 2009 BUDGET: $ 250,000