Actor Dennis Weaver is doing more than just talking about energy conservation. He created his own environmental consultancy and is regularly seen driving off from his Earthship house (made of recycled tyres) in an hybrid car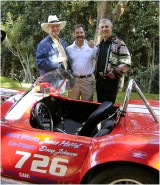 Weaver and engineers in front of hydrogen-powered cobra
Weaver recently led a caravan of hydrogen-fuelled vehicles to Washington, to present Congress with a petition protesting oil imports and demading they be replaced with hydrogen. He has in mind to do it again.
The actor is a long-time proponent of cleaner power and more sustainable sources of energy. In 1993, he founded the Institute of Ecolonomics, an environment awareness consultant company, which also organises educational and public awareness events promoting clean energy. The IoE helps exchanges between businesses, inventors, environment specialists to research and realize clean energy technologies.
True to his convictions, Weaver also dramatically changed his lifestyle to reduce his use of fossil fuel. His off-grid house is made of recycled tyres and cans, according to the Earthship biotecture principle.
Weaver says switching from fossil fuels to hydrogen "will create jobs and a support industries that are huge", similar to the changes when the Internet impacted the computer industry.
Links