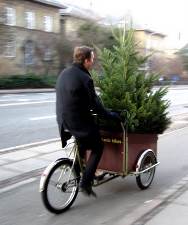 With international climate change talks less than a week away, the host city has taken its Christmas tree off-grid with a rack of bicycles powering LED lights.
The traditional Christmas tree in Copenhagen's City Hall Square will be powered by people, rather than a distant power plant. The square has been equipped with 15 bicycles which, when pedalled, light up the 700 LED bulbs on the tree.
During the summit, organisers say the city hall square will be take on the name "Hopenhagen Live" and become a hub for environmental and cultural activity.
Project manager Stephen Risguard said that a number of bikes are connected to a different section of the tree and if no-one used the cycles, then there would be no power to turn the lights on.The city has more than 350km (217.48 miles) of cycle lanes and a reputation for being "bicycle-friendly".
The 17m-high tree went up on Sunday during an opening ceremony in which Saint Nicholas climbed a fire truck ladder to the top of the tree and lit fireworks. Even during the ceremony, the lights were being powered by the bicycles, according to a representative from the city of Copenhagen. Children, a mayor and international VIPs joined in the pedalling during the opening ceremony, he added.
Staying fit and lighting the night in Copenhagen
The carbon-light approach to lighting the traditional Christmas tree is one of the attractions being organised for COP15, the latest round of international climate change talks, which start next week. The purpose of these meetings is to establish treaties to limit the amount of heat-trapping gases in the atmosphere.
For more on this story, see Pedal-powered Christmas tree lights Copenhagen on CNET News.