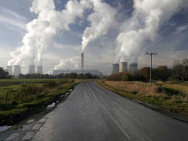 The UK government has issued a draft policy document empowering town halls to  bring in decentralised energy schemes.
A 12-week consultation exercise on revised planning policy statements (PPSs) covering climate change and the natural environment was launched last week.
Councils are urged to assess their area to secure decentralised energy opportunities to meet the needs of new development. 'Local authorities should look for greater integration of waste management with the provision of decentralised energy, co-location of potential heat suppliers and users and district heating networks based on renewable energy from waste, surplus heat and biomass,' says the draft.The consultation document brings together the December 2007 climate change supplement to PPS1 with PPS22 on renewable energy, last updated in 2004. The final version is expected to become a consolidated supplement to PPS1 that will also provide a framework for PPS25 on development and flood risk.
A number of factors have prompted the government to reassess planning policy on climate change. The draft explains: 'A significant amount of new legislation and policy has been put in place that affects planning and policies that underpin plan-making and development management.'
The list includes:
– The Climate Change Act 2008, which introduces a statutory target of reducing carbon emissions by 80 per cent below 1990 levels by 2050 and an interim target of 34 per cent by 2020.
– The EU directive on renewable energy, under which the UK is committed to sourcing 15 per cent of its energy from renewable sources by 2020.
– The Energy Act 2008, which introduces feed-in tariff powers.
The revamped PPS1 will also be the basis for emerging planning policies on green infrastructure set out in the natural environment consultation. 'The document recognises that there are differences between planning for normal open space and for green infrastructure,' notes Savills principal planner Robert Lofthouse.
The document covers green infrastructure, open space, sport, recreation and play space and will replace parts of PPS7, PPS9, PPS17 and PPS20. Sporting and recreational facilities comprising significant entertainment, retail and leisure uses should comply with the town centre policies set out in PPS4, it confirms.
The department is calling for greater emphasis on supporting local biodiversity and healthy environments, local flood risk management and access to shady outdoor space. It backs refusal of permission for proposals resulting in loss of open space, land and buildings used for recreation unless wider public benefits are shown to outweigh the harm. The consultation also tackles the issue of floodlighting for sports and recreational venues. It suggests amendments to ensure that planning authorities consider the impact on local residents against wider community benefits. While this does not imply a go-ahead for floodlighting proposals, the DCLG notes that 'technology has developed significantly in recent years, reducing the amount of sky glow and light that falls onto adjacent properties'.
Issuing these documents for consultation at the onset of the general election season raises fears that they could become lost in the political maelstrom. It remains to be seen whether the next administration – whatever political shade it may be – has the drive to push these proposal through.
– Planning for a Low Carbon Future in a Changing Climate and Planning for a Natural and Healthy Environment are available at PlanningResource.co.uk/doc