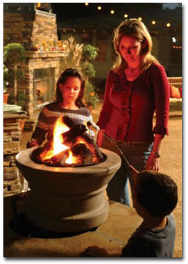 Looking for those few essential items to go off-grid?  Try the camping store: heat, food and shelter are the pre-requisites, and campers can buy them for cheap.
Even Amazon.com is a good source of cool camping gear, including the  Deluxe shelter and solar shower. In an instant, a 4-feet-x-4-feet "locker room" pops up. It comes with a five-gallon water jug that you fill up and let the sun heat.
Camping is buried deep in the American psyche. The famous "Great Camps" of the Adirondacks were originally no more than tent compounds in which wealthy Americans passed their summers under canvas, and in the (relative) wilderness. Then they had their tents put on platforms and had lean-tos added. Then they brought in builders to construct cabins and, finally, architects to design cabins in the Arts and Crafts and "Swiss Chalet" styles.
Camping furniture and accessories are sturdy and functional and, because they fold away, are easy to store, an important consideration in the off-grid home which tends to be smaller because that is easier and cheaper to heat and cool.
Camping Gear you can use all year round
Manufacturers are incorporating the latest materials and technologies to resist the weather and outdoors wear-and-tear. The latest innovative, low-voltage, recharging and alternative-powered accessories and appliances are a np-brainer for camping gear manufacturers who have drawn lessons both from items used by traditional peoples and from high-tech advances, and they've developed well-engineered, hybrid items that take advantage of the best of both worlds.
For those times where there are more people than dishes, the eco-conscious hostess can take heart that there have been huge advances made in disposable, compostable dishes and cutlery. There are several choices on the market, from the basic paper-like potato starch, to the eco-chic bamboo, bagasse (sugar cane fibre) and palm leaf.
Ring of Fire
The heart of any outdoor get-together is the campfire. With the abundance of chimineas, outdoor fireplaces and portable campfires, there's no need to revisit the Boy Scout fire-building lesson.
Lee Valley sells a beautiful Turkish copper outdoor fireplace. Lee Valley also sells a campfire back warmer, a reflective sheet that clips to your chair and catches the radiant energy from the fire, directing it toward your bottom and back. This is especially welcome early or late in the season.
Elegantly staked, oil-filled copper garden torches, designed by Frontgate, are available from GrandinRoad and will cast a glow over the gathering. Over time, torches and fireplace will age to a soft verdigris patina.
But if the basic ring of stone campfire on the bare ground is the order of the day, there's the Stainless Portable Compact Grill supplied by RV Campfire Poker, a slick, stainless steel take-apart grill that fits over any fire.
The Sport Solar Oven, distributed by Real Goods, is a light-weight solar cooker that lets you make fresh bread and other home-baked treats outdoors. It concentrates the heat of the sun to roast meats, steam vegetables, bake breads and cookies, and prepare rice, soups and stews, requiring only minimal sun aiming to cook most foods in two to four hours.
Water on the go
Camping Logic makes a 25-inches-by-25-inches water-resistant camping closet that holds and organizes clothing and personal gear; a roll-up front screen keeps items contained, and it folds compactly for storage. A similar item is Creek Company's weatherproof, collapsible hanging camp cupboard to keep your campsite's cook shack organized and clean. Divided outer pockets provide quick access to utensils or other necessities, and it hangs from a tent frame, tree, or anywhere you need a portable pantry; straps make it easy to rig to a rope, so it can be pulled high in the trees, safe from night prowlers.
Carpet Comfort
Outdoor carpets give an outdoor space some definition and focus. Korhani, carpet suppliers since 1902, manufacture fade- and mildew-resistant woven polypropylene outdoor area carpets that are available as close as your nearest Wal-Mart. Sizes range from 60 by 90 inches to 115 by 154 inches, in severa