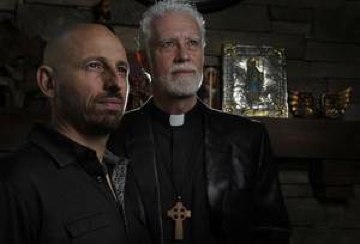 As of today, Todd Ganovski doesn't think the world will end anytime soon.
But he does believe that trouble — either a natural disaster or economic crisis — is coming. And he thinks God wants him to help people prepare for it.
Ganovski is co-founder of Emergency Provision, an eBay site based in Tennessee that sells emergency food supplies online and through church networks. He thinks recent disasters like the flood in Nashville, the tsunami in Japan and the earthquake in Washington, D.C., are signs from God that a major disaster is on the way.
"If it does happen, I don't want to have to jump through FEMA's hoops to get food," he said.
Ganovski, who leads the Nashville House of Prayer, which meets at Belmont Church in Nashville, started the company with several friends after the March tsunami in Japan.
They buy dehydrated food from a manufacturer in San Diego and sell it on their website.  Prices range from about $100 for a week's supply to about $1,200 for six months' supply.
The company started advertising this month on the Elijah List, an online publication for charismatic and Pentecostal ministers. The ad points to the biblical character of Joseph, who spent seven years preparing for a famine in Egypt.
Brian Hardin, head of the Daily Audio Bible, isn't worried about a disaster or future apocalypse. But he plans to purchase supplies from Emergency Provision for more mundane events like bad weather.
"If we had a bad snowstorm and everyone bought all the milk and cookies and bread, it would be nice to have some of that in the garage," he said.
That's something the American Red Cross stresses. The disaster relief group held a number of disaster preparedness events last month and sells emergency backpacks, including food, online.
"Our whole thing is, have a kit, make a plan," said Cynthia Kelley, communications and marketing manager for the Red Cross in Nashville.
Faith-based emergency preparedness is nothing new. Mormons have practiced it for decades, as have some Seventh-day Adventists and Christian survivalists. They are motivated by prophecies of doom and a desire to be self-reliant.
A way of life
For Cara Widman, keeping an extra supply of food on hand is a way of life. She's a lifelong member of the Church of Jesus Christ of Latter-day Saints, which teaches people to store three months of food.
Widman stores canned corn, meat, tomatoes and other goods, along with staples such as beans and flour, on the second floor of her house in Franklin.
"Our church teaches us to be self-reliant," she said. "They teach us to be prepared for disasters that come — that could be a natural disaster, it could be losing your job, or it could be being able to help someone in need."
Widman says her family has never had to rely on their stockpile, but after the flood in 2010, they gave away much of their stored food.
Tim Hemingway, director of Internet sales for Food Insurance, a Utah-based company, said that emergency food storage has become more mainstream. The company advertises with conservative talk show hosts like Glenn Beck and Sean Hannity and sells emergency backpacks with food along with long term-supplies.
Kathleen Flake, associate professor of American religious history at Vanderbilt Divinity School, isn't surprised in the growing interest in emergency food storage.
She thinks some of that interest is based on religious predictions of disaster. But it also shows that people have realized how fragile modern society can be, she said. In the past, people kept food supplies at home. Now, they eat out or run to the grocery store on a regular basis for a few things.
"Instead of having a couple of weeks or months of food on hand, they have a few days of food," Flake said.
As the level of anxiety grows in society, being prepared can help people gain a sense of control.
"They are preparing for disaster," she said. "And of course the world never disappoints us. It's not a bad thing to prepare for them."