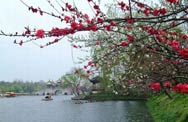 Clean power in Jinagsu We think of China as a high polluting country with smokestack power stations. At the same time the country also has the world's largest concentration of renewable energy.
INTERFAX-CHINA announced this week that China's first large-scale, off-grid wind power project is due to begin trial tests next year in Eastern China's Jiangsu Province, three years earlier than previously planned.
The generated power will not be fed into the national power grid but instead, will be directly transmitted to local consumers.
"The research process for this project has been much quicker than we previously anticipated," Gu Weidong, dean of the an official with the Jiangsu Province Macroeconomic Research Institute (JMRI) told Interfax on July 24. JMRI is in charge of the design and research of the project. Results of next year's trial tests will be submitted to the central government for final approval, according to Gu.
%authorad4%
According to Gu, the project will direct power generated by a wind farm located on a 24,000-square kilometer sandbank in Jiangsu. However, details of the farm's installed capacity and construction plans have not yet been released.
"Domestic power companies, such as China Longyuan Electric Power Group Corp., China Huadian Corp., and China Power Investment Corp. have all invested in the wind power project," said Gu.
According to the National Development and Reform Commission, Jiangsu has seven wind power projects, with a combined installed capacity of 1,500 megawatts, near its coastal areas that are due to come online by 2010.