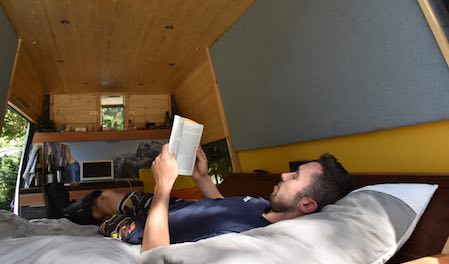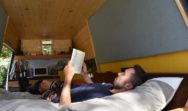 The Sun is featuring Nate Murphy, a Brit who decided to turn his white van into an RV in just 17 days to travel the world. These kind off adventures have gotten very popular over the years and this featuring in Britain´s most -read newspaper is a sign that more people would like to live an off-grid life!
"I did an interview for a media organisation that sold my interview. It was really cool that The Sun wanted to write about my van", Murphy tells.
A world adventure
Nate is a professional rock climber and uses the camper van to travel between climbing destinations around the world. The camper van has been turned into a fully functional leisure vehicle, with sleeping room for two, seating space, running water, LPG Central heating and electricity from a 300 watt solar panel.
"It is designed so I do not have to plug in anywhere. It is a very comfortable way if living as I do not rely on anything else than the van".
The rock climber says the biggest challenge in the process of building the van is that if you are going to do it quickly, you have to make sure you have everything delivered at the right time.
"I worked 15 hours every day and I would say the whole process took me about 250 hours work," he tells.
Living on a shoestring
Nate´s nomadic life style has taken him to some of the most expensive cities in Europe, where he avoids accommodation costs, saving a fortune in hotel bills.
He has lived out of the van for a year and travelled through Europe, Asia and the United States, where he just returned from.
His plan for the summer is to sell the van if he can get a reasonable price for it. With the money he wants to build a new van.
"I really enjoyed the process of designing and building the van, so I would not mind doing it again".
So far Nate has not made any big plans for the summer yet, but is looking into doing rock climbing in Norway. Initially the plan was to spend up to three years in his van, but the climber has realised he enjoys the lifestyle so much that he wants to continue for indefinite time.
Makes money from his Youtube-channel
As well as doing rock climbing and living nomadically Nathan Murphy is a Youtuber with more than 80,000 subscribers. You can see more of his adventure here. 
Want to go on an off-grid adventure? Check out this farm stay in Central Vietnam!
Auto Amazon Links: No products found.