Camper vans and Motor-homes combine fun and freedom. Going to a festival, or just a nice cheap family holiday? Want to wake up to the sound of the lark, not the sound of the landlady's vacuum cleaner? Here's where to find camper vans rentals and motor-homes for hire online.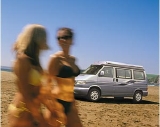 Best Hire Motorhomes have motor- homes from 395 a week for two people, high season only. They also hire 3,4 and 5 berth motor- homes.
Verve-motorhomes or Camper Van Hire from 495 a week for a 5 people motor- home.
Middlesex Motor Home Online rent luxury motor homes for 4 to 6 people. From 520 a week for 5 people.
Kamper Hire Have VW camper vans for rent, sleep 4 (2 adults and 2 children) prices start at 350 for a week in low season.
Cornwall Campers Rent VW camper vans in Cornwall. Theye got 4 VW campers, all sleep 4, and are fully equipped with folding tables and chairs, cutlery, lamps etc 395 or 495 a week depending on the season.
Campers2go also specialise in VW campers, 385 a week, they also do weekends for 200.
100% slow are a bit more expensive. They've got 5 vans they rent 400 a week in low season.