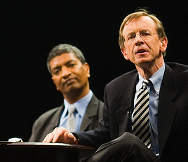 A new but still unseen fuel cell technology that its creator claims can be an off-grid source of cheap energy, and clean power,  is about to get its formal debut
Bloom Energy's
much-hyped fuel cell, known as the Bloom Box, will take place at eBay's headquarters in California tomorrow (24 Feb).  Bloom Box is already being trialed on the campuses of Google and eBay among others. FedEx, Wal-Mart and Staples are among a score of Fortune 100 companies that have signed up as Bloom Box clients to save million in electricity costs. Former Secretary of State Colin Powell, among those who endorse the technology, is on the Board of Directors of Bloom Energy, an eight-year old stealth start-up that raised more than $ 400 million from
Silicon Valley's venture capitalists
who have installed Bloom Boxes in their own bug-out locations.
The twin worlds of energy and entrepreneurship are crackling with electric anticipation after Bloom Energy's India-born scientist-CEO K.R.Sridhar, provided a sneak peek over the weekend at the cheap electricity generation-in-a-box that could eliminate the traditional grid and challenge monopolies.
Supporters are claiming it could be the Holy Grail of the world's energy quest; and even skeptics agree that it is a unique "power-plant-in-a-box." What acres of power grid can generate, Sridhar's Bloom Box can crank out in a fraction of the footprint — in a squeaky clean manner too.
At its heart, Sridhar's Bloom Box claims to be a game-changing fuel cell device that consists of a stack of ceramic disks coated with secret green and black "inks." The disks are separated by cheap metal plates. Stacking the ceramic disks into a bread loaf-sized unit, says Sridhar, can produce one kilowatt of electricity, enough to power an American home – or four Indian homes.
The unit can be scaled up, installed anywhere, and be connected to an electrical grid, or a micro-grid, just like you would connect your PC to the Internet.
Other reports suggest Hydrocarbons such as natural gas or biofuel (stored separately) are pumped into the Bloom Box to produce cheap electricity but this appears to contradict initial reports. The company says the unit does not vibrate, emits no sound, and has no smell, although Sridhar admits to some initial, but minor, glitches at some installations.
A hoax it is not, although some are suggesting there is a lot of hype around the launch — somewhat like with that of the Segway transporter that was much bally-hooed but did not live up to its billing. As with Segway, the big catch right now is cost. Large-sized Bloom Boxes of the kind installed at some Silicon Valley campuses costs around $ 700,000 to $ 800,000. Sridhar estimates that a Bloom Box for the residential market could be out within a decade for as little as $3,000 to produce electricity 24/7/365. "In five to ten years, we would like to be in every home," Sridhar told CBS' "60 Minutes" on Sunday night.
But Silicon Valley, whose major venture capitalist Kleiner Perkins' bankrolled Bloom Energy, is endorsing the technology. EBay said it has already saved $100,000 in electricity costs since its 5 boxes were installed nine months ago. It even claims that the Bloom boxes generate more power than the 3,000 solar panels at its headquarters. Google has a 400 kilowatt installation from Bloom at its Mountain View headquarters. California's governor Arnold Schwarzenegger will be at the launch, which is to take place on the eBay campus.
The man at the center of all the excitement, Dr K.R. Sridhar, 49,  was a professor of Aerospace and Mechanical Engineering as well as Director of the Space Technologies Laboratory (STL) at the
University of Arizona
. He is also, literally, a rocket scientist, having served as an advisor to NASA in the areas of nanotechnology and planetary missions. Sridhar initially developed the idea behind the Bloom Box while working with NASA, as a means of producing oxygen for astronauts landing on Mars.
Dr. Sridhar received his Bachelors Degree in Mechanical Engineering from the University of Madras, India, and moved to in the 1980s to the U.S, where he earned an M.S. in Nuclear Engineering and Ph.D. in Mechanical Engineering from the University of Illinois, Urbana-Champaign, home to such start ups as Netscape.
Venture capitalists have reportedly poured $400m into Bloom Energy's project since founder KR Sridhar began his work eight years ago. Twenty companies, including Wal-Mart and Google, are trying out the device. Sridhar has also attracted the high-profile support of Powell, who proclaimed last year: "I have seen the technology and it works."
But industry watchers say they remain unsure exactly how it works. They also say Sridhar has aroused suspicion with his secretive approach, which includes working in an HQ with no sign outside.
Scientists and entrepeneurs have been trying for years to create a low-cost option for generating and storing fuel. Sridhar has told reporters his work draws on his research on generating oxygen for Nasa's missions to Mars. The Bloom Box allegedly reverses this process, using natural gas or plant waste as fuel while producing relatively little
carbon dioxide
.
Sridhar gave CBS the first glimpse of the technology, explaining that the boxes are produced from stacks of ceramic plates. The plates, which are made of sand, are painted with special green and black inks. He declares that one such stack, or cell, can power a light bulb; 64 can power a coffee shop.
Nasa has been using similar devices aboard its vehicles for years but Sridhar's achievement was to make the technology affordable, he told the Atlantic magazine last December.
He has been running a pilot project of the technology at the
University of Tennessee
for the last two years, where the Bloom Box reportedly proved twice as efficient as traditional power sources and produced 60% fewer emissions.
But its real potential lies in its claimed ability to use any fuel source – gas, plants, wind, solar, etc – to generate power, which would theoretically enable the Bloom Box to operate entirely off the electricity grid. That would offer developing countries, such as Sridhar's native India, the chance to provide cheap, clean electricity to remote villages.
"I want to open up access to energy the way that PCs and the web opened up access to information," Sridhar told the Atlantic. "So people can live where they want, and still be connected, without someone telling them when they can do their laundry."