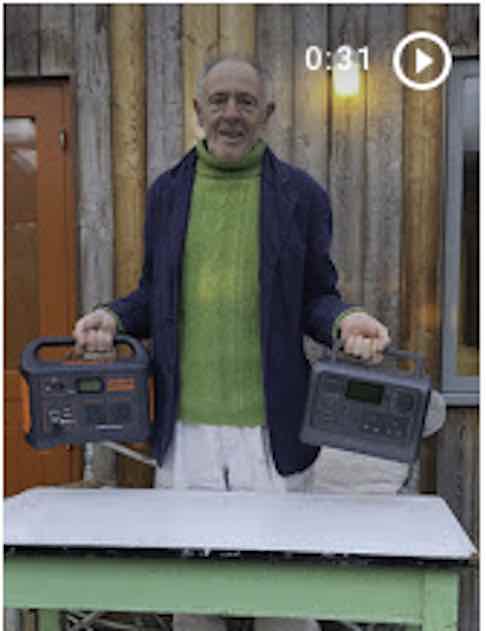 Bluetti is one of the pacemakers in the home battery market, with an online following crowdfunding some of its latest products. Over the coming weeks at Off-Grid.net and our associated Youtube channel, we will be test-driving some of its leading products and comparing them to the competition – Jackery, Anker, Allpowers and others.
The company styles itself as a pioneer in the clean energy storage industry, and is to showcase its new model EP900 and other power backup products at the upcoming CES 2023, the world's biggest tech conference. It claimed to redefine home energy at the Las Vegas Convention Center, North Hall #9335, Jan. 5-8, 2023.
The upgraded EP900 & B500 feature a 9kW inverter and expandable capacity that starts at 9kWh with a single B500 LFP battery and ends at 79kWh when paired with 16 batteries. The system can be integrated directly into most solar panel systems, allowing for up to 9kW max solar input. Besides its peak-load shifting mode to reduce electric bills, it also acts as an uninterruptible power supply (UPS) that switches instantly to battery power in 10ms after the grid power fails.The stellar combo of the year will also hit the stage. A month earlier, it raised $11 million from more than 4,000 backers on Indiegogo, another record in BLUETTI's history.
The 16-outlet solar generator pumps out 5kW pure sine wave power and can be charged via 8kW AC+ Solar dual input. The AC500 can handle anything from home blackouts to outdoor camping when teamed with one to six B300S LFP batteries for a maximum capacity of 18,432Wh.
BLUETTI has a diverse product range that can be classified by size, usage, or design. It has a lineup of portable generators called the EB series, such as the popular 10-pound EB3A. The AC200MAX, AC200P and EP500, EP500Pro make up the best all-in-one power giant collection. Options for power stations are growing in number as BLUETTI's R&D team continues to roll out products based on customer demand.
For more stories from off-grid.net search here
Our Our fastest solar ovenBake, roast or steam a meal for two people in minutes, reaching up to 550°F (290°C). GoSun Sport sets the bar for portable solar stoves.
Buy our book - OFF THE GRID - a tour of American off-grid places and people written by Nick Rosen, editor of the off-grid.net web site