Former Crosby Stills Nash and Young singer, Neil Young chose soya oil to power his 2004 USA tour. The singer was escorted by a fleet of biodiesel powered vans and buses.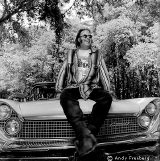 Biodiesel is the fastest-growing fuel alternative in the USA. Army and school buses now run on this cleaner fuel in some parts of the country.
Biodiesel is a vegetable oil that can be used instead of petrol in diesel engines. It is usually made form soy or canola, or recycled frying oil. 100% ecological, renewable and greenhouse emission- free, it works just as well as normal diesel and the number of biodiesel pumps in the USA is increasing by the day.
"I plan to continue to use this government approved and regulated fuel exclusively from now" said Neil Young on return from his tour. He sees biofuel as the best way to travel "anywhere in North America without using foreign oil, while being environmentally responsible."
He'll be joining green actor Daryl Hannah, who drives a biodiesel powered car and lives in an off-grid house in California.
Of course, as a 70s icon, he is probably beyond sex and drugs by now, but the biofuel makes him feel like a young man again.
Links
Journey To Forever has a biofuel library: everything you need to know to make your own biodiesel
Biodiesel Now has a forum, information and good links
The official site of the National Biodiesel Board
___________________